Hands Off Obamacare: Rallying Cry or Faint Hope?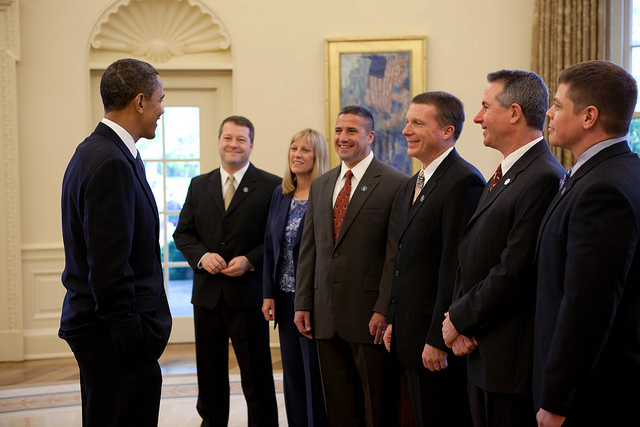 With the majority of the American public as confused as ever regarding the effects the Affordable Care Act will have on the quality and cost of their health care, the fight over perception is growing ever more heated. Supporters of Obamacare, including the president, are stepping up their public relations campaigns. Correspondingly, in the political arena, battles over the implementation of the legislation's key provisions — the employer and the individual mandate — have been switched into high gear.
"Hands Off Obamacare" has become the rallying cry of supporters, led by a commercial sponsored by Americans United for Change, a liberal advocacy group. The advertisement, which will run on national cable television as early as Thursday, took a hint from the well-publicized message splashed across a protester's sign at a 2011 Republican town hall meeting, which read "Hands off Social Security and Medicare," and others like it.
The commercial leads with the claim, "the news is in…health care premiums are tumbling," citing Wednesday's announcement that health plan costs for New York residents purchasing individual coverage will fall 50 percent because of Obamacare.  The ad proceeded to attribute decreasing premium costs, cheaper prescription drugs for seniors, and the ability of those with preexisting conditions to purchase coverage to the health care reform.
"But Republicans would take it all away," the advertisement concludes. "Republicans have voted nearly 40 times to dismantle Obamacare — 40 times to take away coverage. Republicans want to take away your coverage and put insurance companies back in charge. Obamacare is working. Tell Republicans: Hands off Obamacare."
Prompted by the Obama Administration's one-year delay of the employer mandate, which requires companies with 50 or more workers to provide full-time employees with insurance plans, Republican leaders brought another provision of the Affordable Care Act to the House floor. Wednesday evening, the House of Representatives voted to postpone implementation of the the law's individual mandate as well as the employer mandate by one year.
"This is about basic fairness," Speaker of the House John Boehner, a Republican from Ohio, said in a news conference Wednesday. The vote to delay the individual mandate passed by a vote of 251 to 174, which represents the 39th time the House has voted to disrupt, defund, or dismantle the legislation.
Conversely, Democrats have argued that Republican lawmakers are wasting time by trying to pass legislation that is unlikely to advance in the Senate. "My Republican colleagues have set out on an extreme mission, this time to re-argue a bill that has already helped millions of Americans," Rep. Tim Ryan, D-Ohio, said in a press release. "Instead of playing political games with legislation that they know is going nowhere, let's pass a jobs bill and do the work we were sent here to do."
As for President Barack Obama, he gave a speech extolling the virtues of the Affordable Care Act from the East Room of the White House on Thursday as part of his administration's long campaign to garner support for the reform. A senior administration official told reporters from Time that his remarks would serve to "break down in very real terms what this policy really means.
"Just yesterday, state officials in New York announced that average premiums for consumers who buy insurance in their new marketplace will be at least 50 percent lower next year than they are today," Obama said, highlighting the same news as the Hands Off Obamacare commercial. "So this is just an example of how the Affordable Care Act is doing what it's designed to do.
"For years, too many middle-class families saw their health care costs go up and up and up, without much explanation as to why or how their money was being spent," Obama continued. "But today, because of the Affordable Care Act, insurance companies have to spend at least 80 percent of every dollar that you pay in premiums on your health care — not on overhead, not on profits, but on you."
While Obama's words seemed to follow old and often-heard arguments, Time noted that the "White House is hoping this tableau will distract Americans from the Administration's recent admission that the law's requirement that larger employers provide health coverage for workers will be delayed."
But with more than 40 percent of Americans confused as to the legal standing of the Affordable Care Act, as a Kaiser Family Foundation poll showed in April, a more clear explanation of Obamacare is needed instead of claims that "Obamacare is working." A study released by the Department of Health and Human Services on Thursday contained a similar message.
Follow Meghan on Twitter @MFoley_WSCS
Don't Miss: Does Obamacare's Central Nervous System Threaten Privacy?