Happy Thursday: McDonald's Gets a Government Letter and a Strike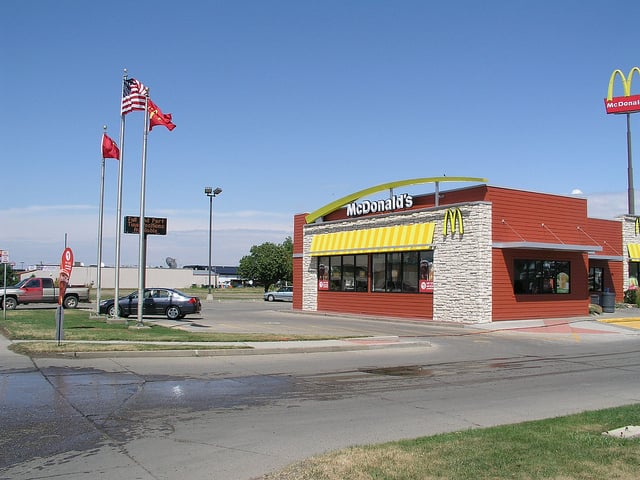 As the world's largest fast food chain, McDonald's (NYSE:MCD) has been blasted for its wage practices for years. This month, however, the government is ready to step in. According to Bloomberg, Democrat members of the U.S. Congress are encouraging McDonald's, along with a handful of other fast food chains, to raise wages for their store workers, communicating with them via a letter signed by representatives.
Fifty-three members of Congress wrote in a letter that was mailed to restaurant executives Wednesday, "Too many hard-working families are being forced to depend on poverty-level wages. Paying fair wages and putting more spending money in the hands of consumers will strengthen our economy."
The letter was sent to McDonald's CEO Don Thompson, along with the CEOs of Burger King Worldwide (NYSE:BKW), Wendy's Co., Yum! Brands (NYSE:YUM), and Domino's Pizza – representing some of the world's largest chains who employ the greatest number of employees. The letter also accompanies a bill already pending in Congress that would raise the federal minimum wage to $10.10 an hour from $7.25 an hour and index it to inflation. President Barack Obama has vocalized his support for such legislation, but it has yet to be passed, and that affects states which don't have higher minimum wages than the federal level.
Thompson has certainly fielded his fair share of consumer complaints over his wage decisions, but he maintained in a Bloomberg Television interview back in July, "We have always been an above minimum-wage employer. We are about providing opportunity. A lot of people can debate the entry-level point. We will continue to provide entry-level jobs. There was a time when one over every 10 people has worked at McDonald's."
His remarks came after the fast food giant came under significant scrutiny for offering its employees a new budget calculating tool to help manage their wages. The idea likely had good intentions, but McDonald's vast miscalculations and offensive underestimates of what it is like to live off a minimum-wage salary ending up hurting the fast food chain's image rather than helping it.
Now, four months later, no wage changes have been made and consumers and employees are still disgruntled. The fast-food workers have planned to strike today for $15-an-hour pay in more than 100 cities across the U.S., but these protests have proven unproductive in the past. According to Bloomberg, U.S. food-preparation and serving workers earn $9 an hour, or $18,720 a year, as reported by the Bureau of Labor Statistics, and to change the wages in an industry that employs millions of workers, it is going to take more than a protest.
Don't Miss: 7 Anti-Aging Foods That Are a Fountain of Youth.