Harry Winston Enters Agreement With Swatch and 4 Stocks Enjoying 52-Week Highs
Amazon.com (NASDAQ:AMZN): Closing price $272.73
Amazon Web Services division provides cloud-based computing and storage to other firms, and is one of Amazon's fastest growing businesses, says the Wall Street Journal's "Heard on the Street." Macquarie calculates that  the segment had $2.1 billion worth of revenue last year, and will make $3.8 billion this year, marking an increase 81 percent. The consensus projection for Amazon's retail revenue is that it will soar by 25 percent to $73.6 billion. Macquarie predicts  that the market for AWS will touch $38 billion by 2015. Shares closed up 1.79 percent on the day at $272.73, and have been traded in a 52-week range of $172.00 to $269.73.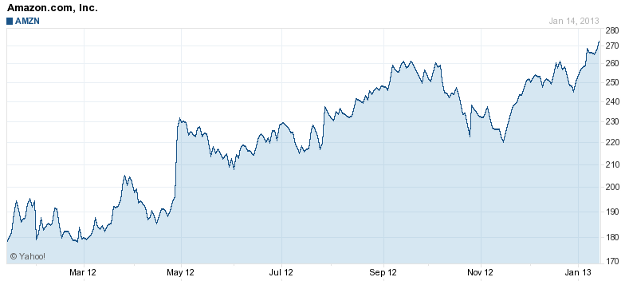 Start 2013 better than ever by saving time and making money with your Limited Time Offer for our highly-acclaimed Stock Picker Newsletter. Click here for our fresh Feature Stock Pick now!
Apollo Global Management (NASDAQ:APO): Closing price $19.94
NRI Management Group and affiliates of Apollo Global Management are partnering to invest in mining properties worldwide, with a primary concentration on coal. The strategic partnership is backed by an equity commitment of $300 million from funds affiliated with Apollo, and will target mining and related opportunities in established regions around the world. Shares closed up 3.32 percent on the day at $19.94, having been traded in a 52-week range of $10.42 to $19.49.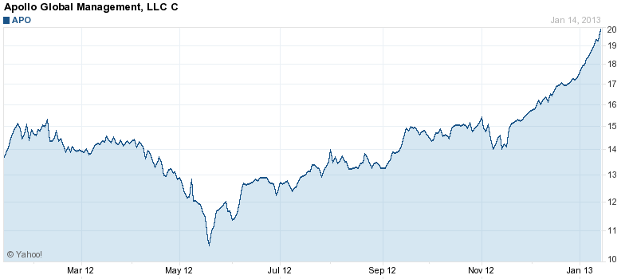 Conagra Foods (NYSE:CAG): Closing price $31.03
Ralcorp Holdings (NYSE:RAH) and ConAgra said that they have received a no-action letter from the Canadian Competition Bureau, confirming that the Commissioner of Competition will not challenge ConAgra Foods' purchase of Ralcorp, which satisfies one of the conditions to the finalization of the transaction. However, the deal remains subject to certain other closing conditions, among which include the approval by Ralcorp's shareholders. Shares closed up 0.75 percent on the day at $31.03, and have been traded in a 52-week range of $23.64 to $31.12.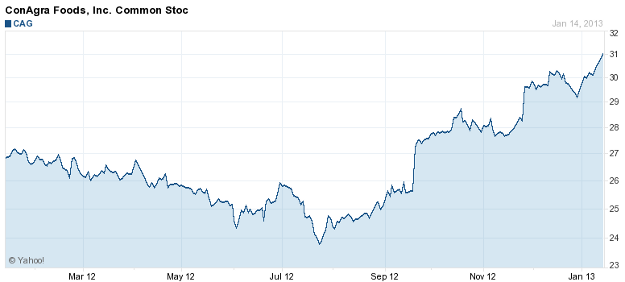 Harry Winston Diamond Corporation (NYSE:HWD): Closing price $15.08
The company will divest its luxury brand diamond jewelry and timepiece division to The Swatch Group at a price of $750 million, plus their assumption of up to $250 million of pro forma net debt. Shares closed up 4.29 percent on the day at $15.08, having been traded in a 52-week range of $10.32 to $15.92.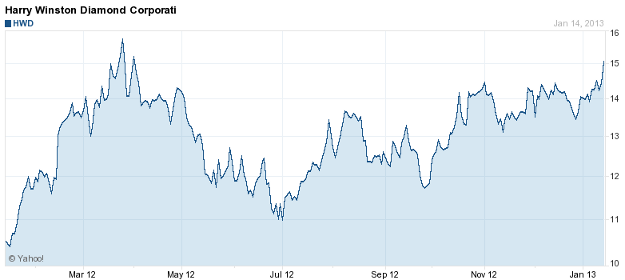 MFC Industrial (NYSE:MIL): Closing price $9.96
MFC Industrial said that its board has declared an annual cash dividend for 2013 of 24 cents per common share. This dividend is 9 percent higher than the one paid last year. The first payment of 6 cents per common share will be paid on February 8th to shareholders of record on January 25th. Shares closed down 1.29 percent on the day at $9.96, and have been traded in a 52-week range of $6.65 to $10.22.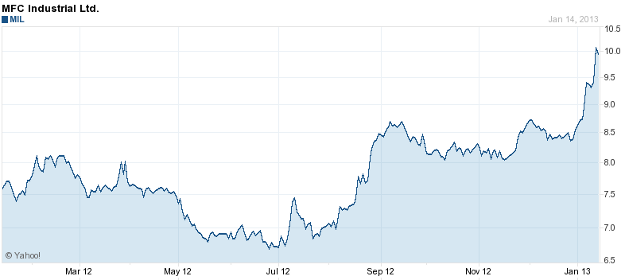 Investing Insights: Will Rite Aid Double In 2013?