Hartford Financial Services Earnings: Swinging to a Profit
S&P 500 (NYSE:SPY) component Hartford Financial Services Group Inc. (NYSE:HIG) reported net income above Wall Street's expectations for the first quarter. Hartford Financial Services Group Inc. provides investment products and insurance products in the United States.
Don't Miss: Wall St. Cheat Sheet's newest Feature Trades of the Month!
Hartford Financial Services Group Earnings Cheat Sheet for the First Quarter
Results: Net income for the property and casualty insurance company swung to a profit of $511 million ($1.01/share) vs. a loss of $319 million (loss of 42 cents/share) in the same quarter a year earlier.
Revenue: Stood at $6.26 billion YoY.
Actual vs. Wall St. Expectations: HIG reported adjusted net income of of $1.16/share. By that measure, the company beat the mean estimate of 95 cents/share. Estimates ranged from 90 cents per share to $1.06 per share.
Quoting Management: "I am pleased with The Hartford's strong performance this quarter," said Liam E. McGee, The Hartford's chairman, president and chief executive officer. "Our results demonstrate that we continue to build on the momentum of last year. We are delivering more stable and consistent financial and operating performance. In Japan (NYSE:EWJ), our hedging programs performed well, limiting the impact of the equity market and currency volatility that followed the tragic events in March."
Competitors to Watch: American Intl. Group, Inc. (NYSE:AIG), HCC Insurance Hldgs., Inc. (NYSE:HCC), American Financial Group (NYSE:AFG), RLI Corp. (NYSE:RLI), Selective Insurance Group (NASDAQ:SIGI), Assurant, Inc. (NYSE:AIZ), First Mercury Financial Corp. (NYSE:FMR), The Travelers Companies, Inc. (NYSE:TRV), CNA Financial Corporation (NYSE:CNA), and Hallmark Financial Services, Inc. (NASDAQ:HALL)
Stock Performance: Shares of HIG are up nearly 1.3% in after hours trading.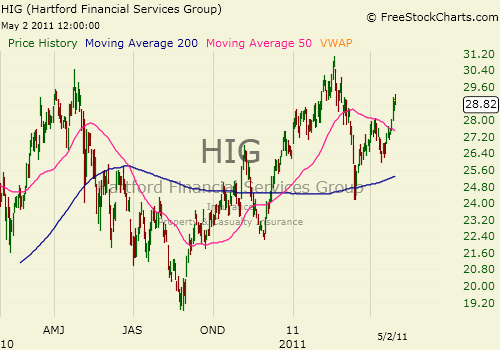 Don't Miss Wall St. Cheat Sheet's newest Feature Trades of the Month!