Harvest Natural To Restate Results and 2 Stocks at 52-week Lows
Harvest Natural Resources (NYSE:HNR): Closing price $2.98
The energy company reports that it will need to restate some financial results published between 2010 and 2012, sending its shares to their lowest point in more than a decade in Thursday afternoon trading. In a filing with the U.S. Securities and Exchange Commission, Harvest said that it will restate results for the years 2010 and 2011, as well as for the first through fourth quarters of 2011 and the first through third quarters of 2012. Shares closed down 0.34 percent on the day at $2.98, having been traded between $2.45 and $10.83 in the last 52 weeks.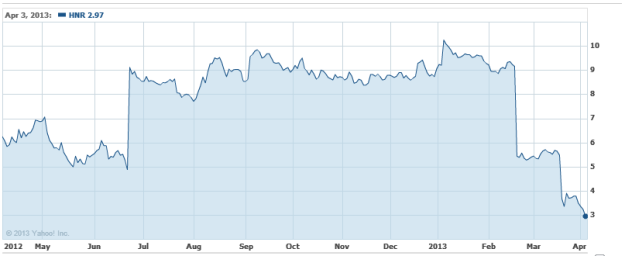 J.C. Penney & Co. (NYSE:JCP): Closing price $15.08
Earlier in Thursday, the iconic retailer fell to a 52-low at $14.10 per share, and then rebounded and before the close has climbed more than 5 percent to end the day at $15.08. Analyst Sam Mamudi at Barron's commented, "It's always worth keeping in mind that Penney — the second-worst performer on the S&P 500 in the first quarter — is one of the most shorted stocks on the market, with 44 percent of its float shorted as of March 15th , according to Yahoo Finance. Today's upwards move could just be to do with that, and not a vote of confidence in the retailer." Shares closed up 4.50 percent on Thursday, and have been traded in a 52-week range of $14.1o to 36.89.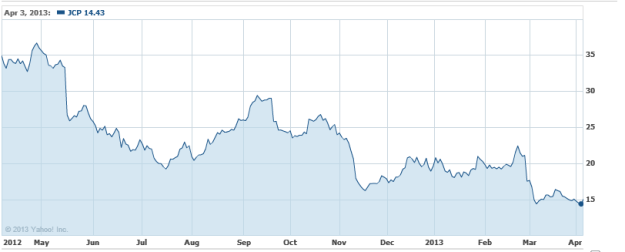 Monster Worldwide (NYSE:MWW): Closing price $4.54
Monster said this week that its 6Sense semantic search tech, which is the technology behind Power Resume Searc, is now available in the Netherlands. Now, recruiters in seven countries can rapidly and precisely locate and target candidates who best meet their hiring requirements. 6Sense and Power Resume Search are presently available in the United States, United Kingdom, France, Canada, Germany, Australia and now in the Netherlands. Shares closed down 1.52 percent on Thursday at $4.54, and have been traded in a 52-week range of $4.52 to $9.53.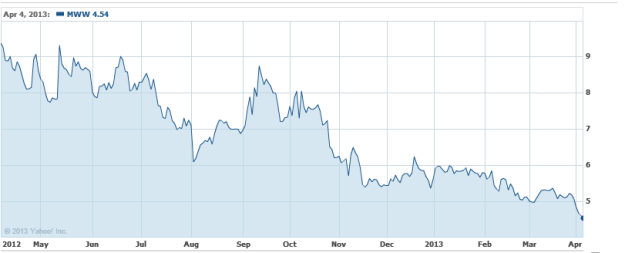 Don't Miss: Will Casual-Dining Still Thrive in America?