Has a Dull April Hurt U.S. Manufacturing?
"Texas factory activity was flat in April," reported the Federal Reserve Bank of Dallas on Monday. "The production index, a key measure of state manufacturing conditions, fell from 9.9 to -0.5. The near-zero reading indicates output was little changed from March levels."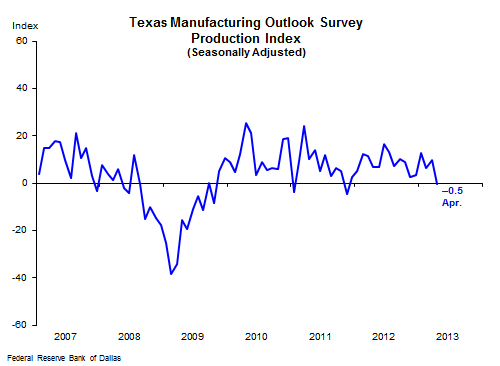 Once a month, the Dallas Fed conducts a survey of about 100 manufacturers in Texas. Participants are asked about relative increases or decreases for various indicators, expectations for conditions six months out, and a few rotating special questions.
A majority of survey participants reported no change in every major indicator, although most edged down sequentially. The indicator for the growth rate of new orders reversed direction and fell 13.6 points to -4.9. Shipments also reversed direction, and fell 11 points to -0.4.
Both prices paid for raw materials and prices received for finished goods decreased for the month, down 16.6 and 10.2 points, respectively. The decline in prices for finished goods reversed a trend of increasing prices, while prices paid for raw materials have been increasing for 45 months.
"Labor market indicators remained mixed," reported the Dallas Fed. "The employment index has been in positive territory so far in 2013 and moved up to 6.3 in April. Twenty percent of firms reported hiring new workers compared with 14 percent reporting layoffs. The hours worked index pushed further negative, from -2.4 to -6.5."
Expectations about future activity declined sharply in the most recent survey. The index for future business activity posted its first negative reading in five months, falling 22 points to -6.7. The index for future company outlook fell from 21.6 to 6.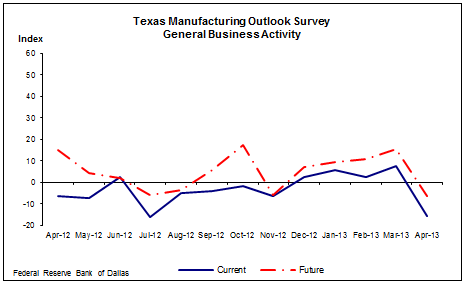 Don't Miss: Higher Incomes Are Helping Out the American Consumer.