Has Boeing Beat the Bears?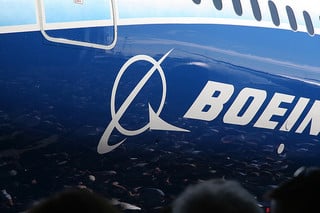 Boeing (NYSE:BA) received some positive investor attention after its fourth-quarter and full-year earnings report. The company's stock, which is off over 4 percent since the start of the year, climbed as much as 1.2 percent in morning trading.
Boeing grew its annual revenue 19 percent to a record $81.7 billion, with a backlog of $390 billion. Core EPS (non-GAAP) climbed 2 percent to $5.88 for the year. Core operating margins shrank 0.5 points to 8.8 percent, and operating cash flow climbed 64 percent to $7.5 billion, including $1.6 billion of pension contributions.
For the quarter, non-GAAP revenues grew 14 percent to $22.3 billion. Core EPS fell 24 percent to $1.46, which was ahead of estimates for EPS of about $1.19. The company's core operating margin fell 0.3 points to 8.3 percent for the quarter.
"Strong fourth-quarter operating performance capped a year of significant growth and solid execution, driving higher earnings and cash flow for our company," commented CEO Jim McNerney. "In a year of considerable achievement, Boeing was the commercial aviation market leader for both orders and deliveries, with more than 600 airplanes delivered."
But while Boeing's fundamentals look good, investors were also looking for information regarding the ongoing international investigation into the lithium-ion batteries on board new 787 Dreamliners…
"Our first order of business for 2013 is to resolve the battery issue on the 787 and return the airplanes safely to service with our customers," commented McNerney. While the hype surrounding issues with the lithium-ion batteries on board the Dreamliner has died down due to a lack of meaningful catalysts, the investigation remains a tremendous liability for Boeing.
Fleets of its flagship aircraft have been grounded around the world, disrupting flights and expansion plans for carriers like All Nippon Airways and United Air Lines (NYSE:UAL). The company's 2013 outlook assumes "no significant financial impact from the FAA directive" that led to the groundings, but it feels too early to entirely dismiss the possibility.
"We remain focused on our ongoing priorities of profitable ramp up in commercial airplane production," commented McNerney, referencing the company's plan to double production of the Dreamliner.
Looking ahead for 2013, Boeing is forecasting core EPS in a range between $6.10 and $6.30, and issued cash flow guidance of over $6.5 billion, including $1.5 billion in pension contributions. Boeing did not mention the sequestration in its earnings report, but Lockheed Martin (NYSE:LMT) did, stating that its outlook for 2013 assumed that Congress would find a way to dodge the spending cuts. Boeing grew its military aircraft revenues 10 percent to $16.4 billion between 2011 and 2012, to 20 percent of total revenue.
General Dynamics (NYSE:GD) and Lockheed Martin have both been on a slump since their earnings reports last week. General Dynamics is suffering investor backlash from a $2.1 billion loss from continuing operations, while Lockheed Martin is suffering from cuts to defense spending.

Don't Miss: What's Next for Ford?