Has GM's Recovery Hit a Snag?
Much has been made of General Motors' (NYSE:GM) recovery recently. The federal government will begin selling off its remaining 32 percent stake in the company this year, the automaker reported earlier this month that January sales jumped 16 percent year over year, and its stock has advanced close to 45 percent in the six-month period ahead of its fourth-quarter earnings release.
But the company has hit a small bump in its road to recovery. On Thursday, the Detroit automaker reported weaker-than-expected quarterly profit. GM posted earnings of 48 cents per share, excluding one-time charges, 3 cents below what analysts polled by Thomson Reuters had predicted. To be clear, the restructuring charge was taken with the intention of showing consumers that the company has "confidence that it will continue to be profitable in coming years," stated Reuters.
Losses in Europe — which totaled $699 million in the three-month period and $1.8 billion for all of 2012 — not only reflected plummeting demand in the region, but also affected GM's results. The company has posted losses in Europe for 13 consecutive years, as Reuters reported, and Chief Financial Officer Dan Amman does not expect that trend to reverse course in 2013…
Economic conditions in North America, GM's most profitable region, also took a toll. During the fourth quarter, prices fell in the region as the company was forced to offer incentives to unload a large inventory of trucks that had stacked up on dealer lots.
Last year was only GM's second full year as a newly public company; it made its initial public offering in the fall of 2010, after receiving a $50 billion U.S.-taxpayer bailout in 2009, and therefore, every subsequent quarter has been a chance for analysts to scrutinize the fortunes of the American auto industry and the strength of the economy in general. After all, it was the shockingly low vehicle sales in 2009 that drove GM and Chrysler into bankruptcy in the first place.
Results were weaker than analysts had predicted, but they still showed strong year-over year growth. For the three-month period, net income rose to $892 million, or 54 cents per share, from $472 million, or 28 cents a share, in the year-ago quarter. The quarter's results were affected not so much by weakness in its business, but by charges associated with a challenging economic environment. GM's charges included a $34.9 billion reversal of a tax reserve on U.S. and Canadian deferred tax assets, a $5.2-billion write down of assets in Europe, an associated non-cash goodwill asset impairment charge of $26.2 billion, and a $220 million write down of its investment in its French partner, Peugeot (PEUGY.PK).
Revenue rose 3 percent to $39.3 billion, surpassing both the $39.15 billion analysts had estimated for the quarter and the $38 billion the company reported in the year-ago quarter…
Full-year results also showed the effects of higher tax rates and weakness in Europe. GM earned $4.9 billion in 2012, a significant drop from the record $7.6 billion it reported the previous year. The company's 2011 results included $1.2 billion in favorable items related to asset sales, while 2012 results had $500 million in unfavorable items.
GM's Detroit counterpart, Ford (NYSE:F) — which weathered the financial crisis without a government bailout — reported considerably higher earnings at the end of last month. Stronger pricing, higher sales volume, and the elimination of UAW contract ratification costs boosted Ford's profits in the North America region by close to a billion dollars. However, Ford does not have the same burden as GM does, which is to prove that its business can be sustainable without federal aid.
Overview (in billions except for per share amounts)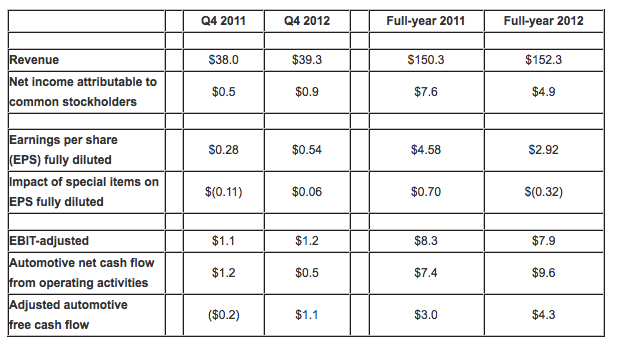 (Source: General Motors)
Here's how GM and Ford rounded out the trading week: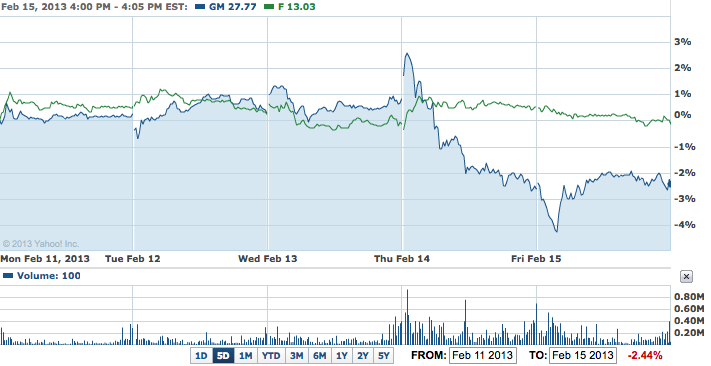 Don't Miss: US Airways and AMR Agree, But Will Regulators?