Has Struggling J.C. Penney Bottomed?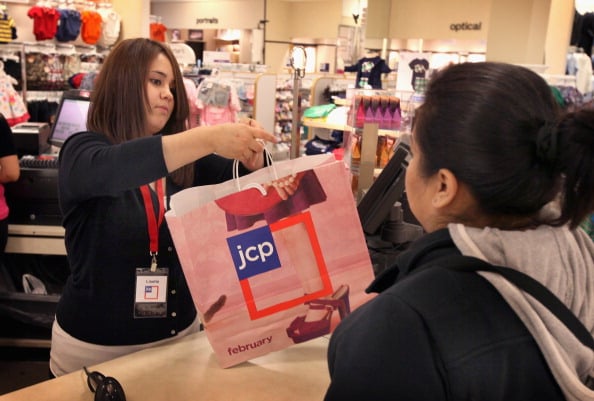 J.C. Penney (NYSE:JCP) investors have been on a wild ride over the past few months. For the year, the stock is down 6 percent, but at one point it had been down more than 50 percent. Since bottoming in early February, the stock has been one of the best performers in the market, with shares essentially doubling and reaching the $9/share level again.
But just recently when the stock reached the $9/share level, it violently rejected it. We saw the stock bounce off of it for a while before falling back down to $7/share. We're now back at that level. Is it time for the stock to break out, or are we going to see another rejection?
The company has clearly been under an incredible amount of pressure. While it reported a small net profit in the most recent quarter, investors have become accustomed to large losses. As a result, the stock has lost an incredible amount of value. It is down 50 percent in the past year, and it has lost three-fourths of its value in the past five years despite relative strength in the broader stock market and in retail stocks more specifically. Furthermore, the company has assumed a lot of debt, it has put its real estate up as collateral, and it had to punitively dilute shareholders late last year.
Many investors believe that the company has turned around, and there is little doubt that the company has made moves that indicate that a turnaround could be around the corner. Most notably, management has substantially cut costs, and furthermore, it has begun shutting down the least economic locations. While the company should have begun doing this more than a year ago, I must commend management for the excellent job it has done so far staving off bankruptcy or, at the very least, another secondary offering.
However, just because the company isn't on the brink of bankruptcy doesn't mean that the stock is worth buying. The $9/share range has been very strong resistance, and I suspect that if it is breached that we will see short sellers rush to cover their positions. Unfortunately, this should only be temporary. The company still faces several headwinds, and it is likely going to see continued losses going forward, especially considering the expenses associated with closing down its less profitable locations.
Furthermore, there are more general headwinds in the retail space in the U.S. While the stock market is near an all time high, we are still seeing American consumers struggle. In particular, we are seeing middle class Americans struggle, and this is J.C. Penney's demographic. Americans simply have less money to spend. They are being forced to spend more on essential items such as gasoline and food, which have been rising in price.
Meanwhile, they can, for the most part, only find sub-par jobs that don't make it easy for them to make ends meet. While the jobless rate is falling according to the Bureau of Labor Statistics, these figures don't take into consideration the fact that Americans are dropping out of the labor force in droves. While that may drop the headline unemployment rate, it also means that these people aren't going to be spending money at J.C. Penney and at similar retailers.
We have already seen strong signs that the retail environment in the United States is weak. Even some of the strongest companies such as Wal-Mart (NYSE:WMT), Costco (NASDAQ:COST), Home Depot (NYSE:HD), and Panera (NASDAQ:PNRA) are reporting profit declines. If these strong competitors are struggling to grow, what will become of struggling retailers?
Ultimately, J.C. Penney appears to be a survivor, but it will be a survivor on a smaller scale. It is going to have to close its weaker locations, sell its real estate holdings, and fight for every sale against companies that are extremely well-capitalized. This is not a good situation to be in.
So will J.C. Penney shares trade above $9 each in the near future? I think it is possible, but I would only bet on it as a trade. There is very little to like fundamentally about this struggling retailer, and there is little to like about the retail space more broadly. Thus, this is a company that is going to at best tread water, and at worst face another secondary offering and further stockholder dilution — the risk reward isn't very favorable.
Disclosure: Ben Kramer-Miller has no position in J.C. Penney or in any of the stocks mentioned in this article.
More From Wall St. Cheat Sheet: