Head's Up! These Cars Come Cheap but They're Worth Much More
Is there any good deals left on the U.S. auto market these days? With an average new car price topping $30,000, you could argue every model is a little overpriced. After all, if you wait a few years, you might see your new vehicle's value cut in half. Not only does that sting your finances once you try to sell; it might make you question your judgment as a consumer.
The fact is shopping for a car tests you on several levels. Going into a purchase with a specific brand in mind (e.g., Mercedes, Lexus, Cadillac) could blind you to a vehicle's weaknesses in reliability and overall value. Sure, you might get a vehicle with a luxury badge that will impress the neighbors, but if you car needs repairs every few months, you will come to hate it.
Auto consumers don't have to accept poor values on today's market. To prove the point, we rounded up a crop of vehicles that cost less than $30,000 yet offer you plenty compared to the competition. Here are 10 cars that come cheap but are worth every cent — actually, they're worth more than their sticker price.
1. Mazda3
Consumers might go into a compact car purchase expecting to compromise on driving experience and still pay $20,000. Choose a Fiat 500L ($20,995) and you'll pay more for a clunker with poor fuel economy. Pick a Toyota Corolla ($18,500) and you'll get a reliable car that is pretty boring to drive. However, if you select a Mazda3 ($17,845), you'll pay less while getting what most consider the best driving experience in the segment. If you're into manual transmission, it comes standard, and so does 33 mpg.
2. Kia Sorento
There are several Kia models that give consumers plenty of bang for the buck, and Sorento may top the list. The base trim ($25,600) offers a polished look that you won't find in competing midsize SUVs, and its fuel economy (28 mpg highway) is exceptional. Consumers focused on a better driving experience and three rows in your SUV can get all of the above for a still-low price ($29,600). If you want value in an SUV with some space for storage and a growing family, test-drive a Sorento.
3. Chevrolet Colorado
For the amount of truck you get for $20,000, Chevrolet Colorado is a solid value. Standard equipment includes a USB port and six-speaker stereo to play your music as well as the pickup's towing capability (3,500 pounds). Upgrading to the V6 engine and adding 4G LTE WiFi along with a 7-inch touch-screen still keeps the price under $27,000. In a down year for Toyota Tacoma ($24,320) in reliability, a 2017 Colorado looks like an even better deal.

4. Honda HR-V
For a subcompact SUV, the Honda HR-V offers enough space for four human adults and way more room for cargo (32 cubic feet) than other models in the class. At $19,465, it also offers better fuel economy and longer wheelbase than Mazda CX-3 ($19,960), Chevrolet Trax ($21,000), and Subaru Crosstrek ($21,695). In a word, it's the best value for a budget SUV because it keeps its eye on the prize (i.e., utility).
5. Mazda MX-5 Miata
If consumers and auto journalists agree on one thing, it's how much everybody loves the Mazda Miata. The rear-wheel-drive roadster delivers an exhilarating driving experience, style, fuel economy, and reliability. In the old days, you could get a few of those things from an Italian roadster but would spend half your time dealing with tedious electrical problems. For close to 30 years, the MX-5 Miata has been one of the best sports car values, and in 2017 it starts at $24,915.
6. Subaru Forester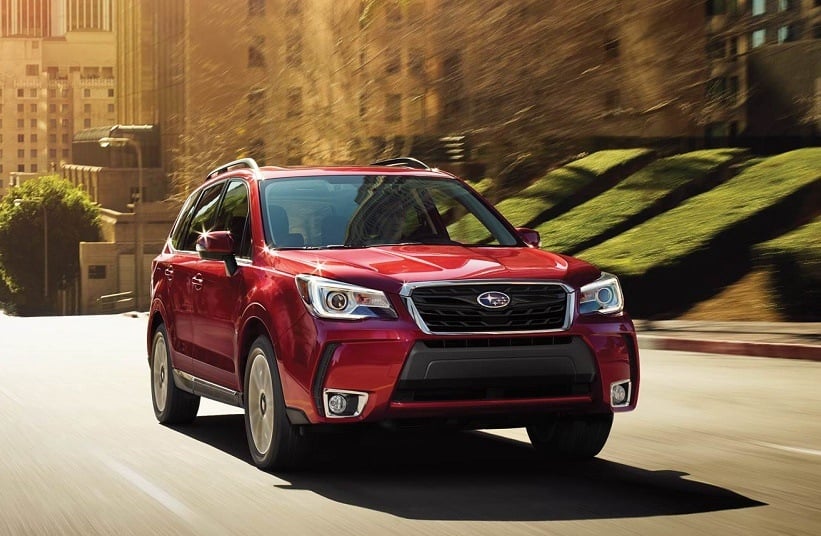 Though Honda HR-V may be the new standard below $20,000, the Subaru Forester surely wins the prize among models that cost less than $25,000. It comes with standard all-wheel drive, solid cargo space (35.5 cubic feet), and 28 mpg overall. Those attributes separate it from a competitive pack that includes Toyota RAV4 and Mazda CX-5. Yet getting four-wheel drive bumps CX-5 ($26,485) and RAV4 ($26,770) into a different price point than Forester ($22,595), and they don't make up for it otherwise.
7. Kia Optima
Getting a family sedan right is harder than it looks. You have to deliver cargo space, a comfortable ride, solid fuel economy, reliability, and a little style at an affordable price. Several cars compete, but none checks every box like Kia Optima ($22,600). Once you count the 10-year powertrain warranty, no competitors comes close.  If buying a foreign-branded car is not your thing, don't worry about Optima: It's made in Georgia. In fact, several trims ranked higher than Ford Mustang on the American-made vehicles list for 2017.
8. Toyota Prius Prime
If you're looking for superior fuel economy, your search will lead you to plug-in hybrids, the most convenient way to go electric. These cars go from pure EV driving to a mix of gas/electric power and have one thing in common: they're expensive. Buying any plug-in with respectable range will run you over $33,000, and economy is not always stellar when the gas engine kicks into gear. The exception is Toyota Prius Prime ($27,100), which after tax incentives hits the same price point as a standard Prius. That's a hell of a deal for a car that averaged 101 mpg in tests and plugs into a standard wall outlet.
9. Kia Soul
In life, cheap things never guarantee value, and this maxim applies especially to cars. Buyers of the very cheap Nissan Versa learn that the hard way, but the same does not apply to Kia Soul ($16,100). Despite the rock-bottom price tag, it offers passenger space, a comfortable driving position, solid reliability, and respectable fuel economy. Mix in Kia's five-year (60,000-mile) warranty and 10-year powertrain guarantee and you have a no-brainer for the budget set.
10. Honda Fit
Searching in the subcompact car class often leads to despair. Back seats are impossible, trunk space is nonexistent, and fuel economy does not impress for a price tag over $15,000. In the case of Honda Fit ($16,090), you can get a decent driving experience and cargo room in a package that fits in tight parking spots. Like other small cars, you'll notice it struggle in highway driving, but compared to a Nissan Versa Note ($15,480) or other underachiever in the class, Fit offers much better value.
Check out The Cheat Sheet on Facebook!