Health Management Associates Earnings: Acute Care Needed
Health Management Associates Inc. (NASDAQ:HMA) reported its results for the first quarter. Health Management Associates, Inc and its subsidiariesprovide health care services to patients in owned and leased facilities located mainly in non-urban communities in the southeastern and southwestern United States.
Don't Miss: Wall St. Cheat Sheet's newest Feature Trades of the Month!
Health Management Associates Earnings Cheat Sheet for the First Quarter
Results: Net income for the hospital rose to $55.5 million (22 cents/share) vs. $46.9 million (19 cents/share) in the same quarter a year earlier. A rise of 18.3% from the year earlier quarter.
Revenue: Rose 11.6% to $1.43 billion YoY.
Actual vs. Wall St. Expectations: HMA beat the mean analyst estimate of 21 cents/share. Estimates ranged from 19 cents per share to 22 cents per share.
Quoting Management: "We are very pleased to report another great quarter," said Gary D. Newsome, Health Management's President and Chief Executive Officer. "We will continue to focus on the initiatives we believe continue to significantly contribute to our outstanding results, including cost discipline, emergency room operations, physician recruitment and market service development. We believe our catalyst for growth continues to be our acquisition and partnership opportunities, as evidenced by our recent announcement to partner with the existing physician owners at Tri-Lakes Medical Center in Batesville, Mississippi. We plan to continue our disciplined approach to hospital acquisitions and joint ventures."
Key Stats:
Net income has increased 12.6% year over year on average across the last five quarters. The biggest gain came in the third quarter of the last fiscal year, when income climbed 38.7% from the year earlier quarter.
Competitors to Watch: Community Health Systems (NYSE:CYH), Universal Health Services, Inc. (NYSE:UHS), Tenet Healthcare Corp. (NYSE:THC), LifePoint Hospitals, Inc. (NASDAQ:LPNT), HCA Holdings Inc (HCA), MedCath Corporation (NASDAQ:MDTH), SunLink Health Systems, Inc. (AMEX:SSY), Dynacq Healthcare, Inc. (NASDAQ:DYII), Select Medical Hldgs. Corp. (NYSE:SEM), and HEALTHSOUTH Corp. (NYSE:HLS).
Today's Performance: Shares of HMA are down 3.75% in after hours trading.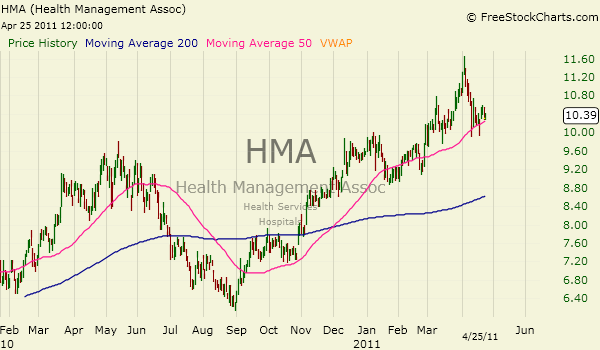 Don't Miss Wall St. Cheat Sheet's newest Feature Trades of the Month!