Heavy Dose of Economic Data in the Trading Week Ahead
Certainly it was an eventful week as we tumbled ever closer to the waterfall; the lights dimmed across the Middle East and on Friday, at least, the knife pointed straight at the heart of global equity bulls.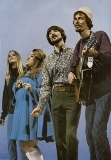 Now after last week's momentous events in Egypt and a weekend rout in Persian Gulf States' equity markets, one can only be reminded of the famous old tune by the Mamas and Papas, "Monday, Monday," and its unforgettable lyrics, "Monday, Monday, can't trust that day…"
For no doubt, Monday, January 31, 2011, could prove to be an interesting day and quite likely things won't be boring going forward through the rest of the week, as well.
At Wall Street Sector Selector we had a good day on Friday, as our portfolios were positioned (and remain positioned) for declining markets, and the only certainty going forward will be heightened volatility over the coming days.
This week the situation in Egypt will be a major factor, of course, but we also have a stream of significant data reports coming at us, culminating with the monthly employment report on Friday.
The best advice I can think of for this "Monday, Monday," is "fasten your seat belts in case we encounter any (un)expected turbulence."
Wall Street Sector Selector remains in "Yellow Flag" status, expecting choppy to lower prices ahead.
On My Radar
As always, the chart tells the story: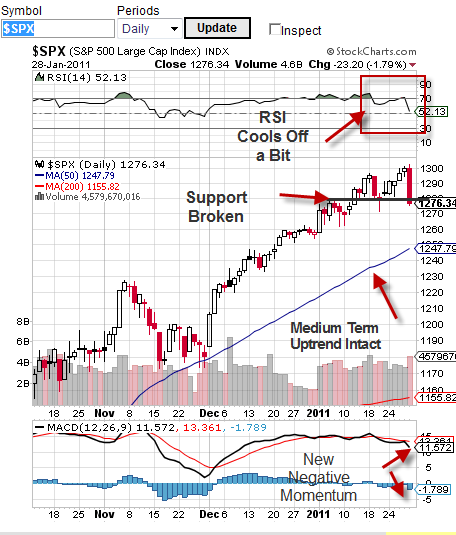 chart courtesy of StockCharts.com
Looking at the chart of the S&P 500 (NYSE:SPY) above we see at the top that Friday's sell-off cooled the overbought condition and brought the RSI down to more average levels.
However, even after Friday's selloff, 62.3% of stocks on the NYSE (NYSE:NYX) remain above their 50 Day Moving Average with a whopping 79.36% still above their 200 Day Moving Average, indicating a market that is still highly overbought and subject to deeper correction. Similar lofty levels preceded last autumn's and last spring's substantial declines.
The View From 35,000 Feet
The big news for the week, of course, was Egypt and that has been well covered in all media and so we won't go into that subject here other than to point out that this firestorm that started with the ouster of the Tunisian leadership on January 14th has rapidly hop scotched across the southern shore of the Mediterranean to Yemen and, of course, Egypt this week. Fueled by the power of social media and cell phones, this civil unrest comes to a region already known for instability, poverty and powerful dictators.
What makes this especially troubling for investors is that Egypt abuts the Suez Canal (Suez City is one of the sites of the ongoing riots) and the canal combined with a nearby pipeline transport more than 4 million barrels of oil per day, 4.5% of global production. So far this traffic has been unaffected; however, any problems here would add approximately 6,000 miles of travel to oil leaving the region and likely lead to large spikes in the price of oil (NYSE:USO). (Bloomberg)
On Friday, oil jumped 4.3% to $89.34/bbl and many analysts suggest $100/bbl can't be far away.
In other less dramatic but also important foreign news last week, Japan's sovereign debt was downgraded by Fitch to "negative" while, almost unnoticed, Britain's GDP declined -0.5% in the 4th Quarter versus the expectation for continued growth. A double dip recession in the world's sixth largest economy cannot bode well for the future of its neighbors in Ireland or the Continent.
At home the news was mixed.
On the upside, January Consumer Confidence and Michigan came in positive, along with 4th Quarter GDP at 3.2% compared to 2.6% prior but less than 3.7% expected, and New Home Sales bounced to 329,000 from a previous 288,000.
On the downside, the November Case/Shiller Housing Index fell, indicating the likelihood of a double dip in the all important housing market, MBA Mortgage Purchases declined 12.9% compared to a previous +5.0%, indicating that housing sales likely won't be improving much any time soon, and Initial Unemployment Claims rose to 454,000 from 403,000 while Continuing Claims rose to 399,000 from 389,700 previously as the employment picture continues to struggle. And finally, December Durable Goods declined -2.5% versus -0.1% the month prior.
What It All Means
Adding it all up, about all one can say is, "wow." In the same week we have riots, sovereign downgrades, rising unemployment and indications of a renewed economic slowdown at home and abroad. Not to mention a State of the Union address and new initiatives to cut spending and increase cooperation (or not) between the divided houses of our government and a Federal Reserve statement that shows, in my opinion, a powerful central bank hoping against hope that its unorthodox methodology is going to produce the desired results.
The Week Ahead
To make things more interesting, this week brings a raft of important economic reports that likely will be market movers, as though we need any more. We'll be getting a look at reports from the consumer, housing and the closely sliced and diced employment reports starting Wednesday and coming to a crescendo on Friday with January's readings from the government.
Economic Reports
Monday: December Personal Income, December Personal Spending, January Chicago PMI
Tuesday: December Construction Spending, January ISM, Auto/Truck Sales
Wednesday: MBA Mortgage Index, January Challenger Job Cuts, January ADP Employment Change
Thursday: Initial Unemployment Claims, Continuing Unemployment Claims, December Factory Orders, December ISM Services
Friday: January Non Farm Payrolls, January Unemployment
Sector Spotlight
The big winners and losers followed the news, not surprisingly, with oil leading the way and two countries close to the African conflict taking significant declines.
Winners: (NYSE:IEZ) Oil Equipment, (NYSE:EPU) Peru (NYSE:USO) Oil
Losers: (NYSE:TUR) Turkey, (NYSE:EWZ) Brazil, (NYSE:EZA) South Africa
This weekend we went to see "The King's Speech," now up for 12 Oscars and certainly worthy of these accolades. Set at the start of World War II, one can only marvel at the strength of the British Empire and its leadership in those dark days. Certainly our current times require a bit of the British stiff upper lip and their pithy slogan from the war, "Keep calm and carry on."
Disclosure: No positions in ETFs or stocks discussed in this article.
John Nyaradi is the author of Super Sectors: How To Outsmart the Markets Using Sector Rotation and ETFs.
Fresh Off the Press! Our Market Outlook 2011 is here. You won't want to invest without it >>
Improve Your 2011 Financial Health: Join the winning team of stock pickers with Wall St. Cheat Sheet's acclaimed premium newsletter >>