Heavy Hitters: BlackBerry Receives Takeover Bid, Apple Smashes iPhone Expectations
Shares of Pandora Media (NYSE:P) plunged more than 10 percent on Monday and continued to edge lower in late afternoon hours. The move lower followed Apple's announcement that more than 11 million unique listeners have checked out its iTunes Radio product since it debuted. On Monday, Apple said that over 200 million iOS devices are now running iOS 7, the new operating system that it recently unveiled. iTunes Radio is a free, ad-supported Internet radio service that is joined into Apple's iOS 7.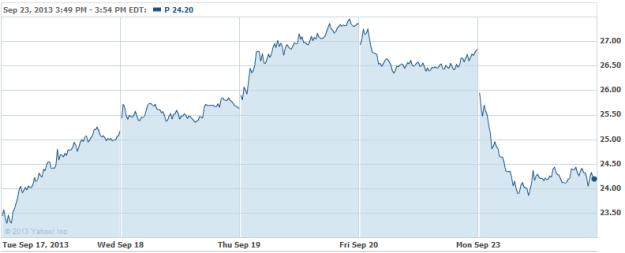 Microsoft (NASDAQ:MSFT) shares edged slightly lower in late afternoon hours, but still managed to outperform the general market. Microsoft showcased its next generation Surface tablet at an event in New York City. The new Surface Pro 2 provides a 75-percent longer battery life and is 95 percent faster than any laptops on the market. Microsoft also revealed some new accessories for the product, including a cover that also functions as a power source, and a docking station that can click in with a display port and is able to power two monitors simultaneously. Microsoft shares are up more than 20 percent year-to-date.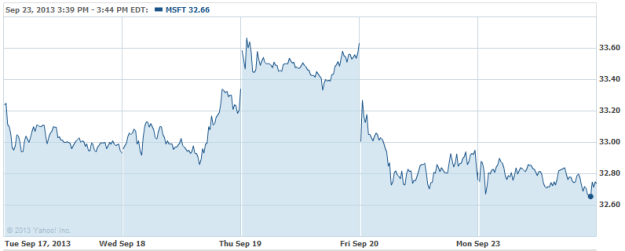 After a dramatic plunge on Friday, shares of BlackBerry (NASDAQ:BBRY) closed 1 percent higher on Monday. BlackBerry announced it would be sold for $9 a share to a consortium led by Fairfax Financial Holdings, a deal that values BlackBerry at a total of approximately $4.7 billion. Fairfax is the company's largest shareholder, with a 10 percent stake. However, financing is not yet in place for the deal, and BlackBerry shares traded lower in late afternoon hours.

Shares of Apple (NASDAQ:AAPL) jumped 5 percent on Monday and continued to edge slightly higher in late afternoon hours. Apple blew most analysts' expectations out of the water when it revealed that it sold a record-breaking nine million iPhone 5S and iPhone 5C models over the launch weekend. Although Apple didn't break down the sales by model, it noted that, "Demand for iPhone 5S has exceeded the initial supply, and many online orders are scheduled to be shipped in the coming weeks." This year's iPhone sales numbers shatter last year's numbers when Apple sold five million iPhone 5 models in three days. However, it should be noted that this year was the first time that Apple launched two iPhone models simultaneously. This was also the first time that China was included in the initial iPhone launch weekend.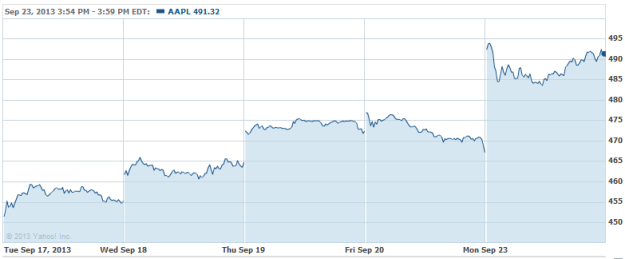 Don't Miss: Who Does the Government Really Work For?
Follow Eric on Twitter @Mr_Eric_WSCS