Heinz Bid For Baby Food Gets Nixed, Visa Reports Payments Growth, and 3 More Hot Stocks
H. J. Heinz Company (NYSE:HNZ): The Australian Competition and Consumer Commission threw the brakes on Heinz's bid for organic baby food supplier Rafferty's Garden, citing antitrust issues. The resulting entity would create a situation involving "highly concentrated markets where barriers to entry and expansion are high," according to the regulator.

Visa Inc. (NYSE:V): Visa has announced that U.S. payments growth reached 12 percent for the month of May, with debit transactions increasing slightly faster than credit transactions. Cross-border growth fell just shy of April's growth figures, at 11 percent for May. The company is presenting its investor day on Thursday, and it appears that the full-year guidance should be confirmed.

VeriFone (NYSE:PAY): A second quarter miss and significant third quarter guidance trimming sent shares of VeriFone plunging, down over 17 percent. Overall, the company seems to be struggling as it looks for a new CEO, and tries to move into more services amid slumping margins and slipping market share.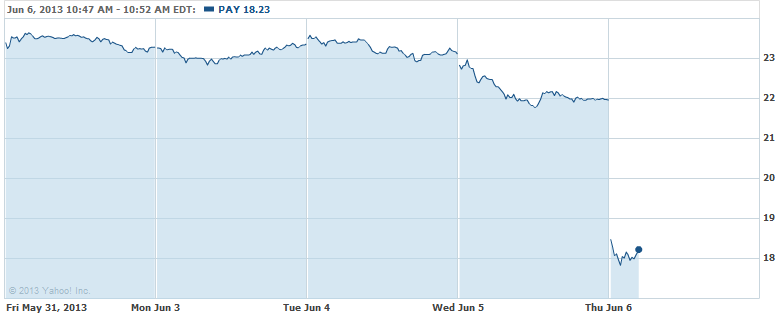 Costco Wholesale Corporation (NASDAQ:COST): Costco continues to break the retail mold, performing well where others have faltered. That trend continues through May, as same-store comparable sales swelled 5 percent, and total sales grew 7 percent to $8.13 billion.
J. M. Smucker Company (NYSE:SJM): A strong earnings beat wasn't enough to offset the inline revenue for investors, as shares are down over 3 percent after the company's fourth quarter earnings report. Overall volume picked up by 2 percent during the period, assisted substantially by a 6 percent increase in U.S. retail coffee volume.

Don't Miss: Feeling McBurned by McDonald's? Turn to Hardee's.