Heinz Bleeds Red: 600 Job Cuts Follow Acquisition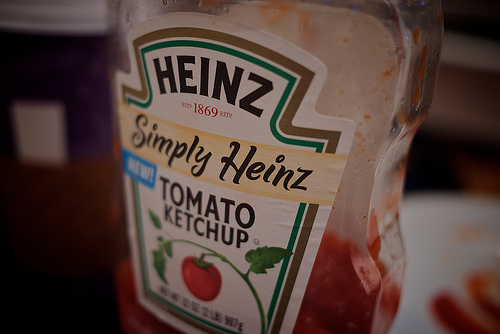 HJ Heinz Co is bleeding red again as it announces its plans to cut 600 office jobs in the U.S. and Canada.
The Pittsburgh-based ketchup maker first announced its acquisition by Berkshire Hathaway Inc (NYSE:BRKA) and Jorge Paulo Lemann's 3G Capital back in February, but only officially closed the deal in June. Following the  acquisition's announcement, 11 top executives departed from Heinz, and now, it looks like a lot more employees will be follow in their wake.
Bloomberg reports that under its new investment consortium's watch, Heinz will cut more jobs in its U.S. and Canadien offices. Pittsburgh, where Heinz is headquartered, will sustain the most significant blow, accounting for more than half the job cuts, but spokesman Michael Mullen still contends that the ketchup maker will continue to employ 800 people in the Steel City and 6,000 in North America.
But the job cuts still won't be warmly welcomed by those 600 affected employees, even though Heinz shareholders were the ones who overwhelmingly approved the acquisition back in June while workers were less enthusiastic. And if these employees remember how Burger King's (NYSE:BKW) workers fared during a similar acquisition with Lemann's company, they likely had reason to fear for their jobs — following Lemann's acquisition of Burger King Holdings in October 2010, 413 workers lost their jobs and employee count fell about 12 percent to 34,248.
But Heinz spokesman Michael Mullen continues to maintain that these cuts are for the good of the company (easy for him to say) and writes in an e-mailed statement highlighted by Bloomberg, "Our new organizational structure will simplify, strengthen, and leverage the company's global scale, while enabling faster decision making, increased accountability, and accelerated growth."
Warren Buffett's Berkshire Hathaway Inc. teamed up with 3G to close the $23.3 billion acquisition because they both believe they can benefit from the ketchup maker's expansion. Both ended up paying $4 billion to split the equity in Heinz's new private holding company, but Buffett also paid an additional $8 billion for the preferred shares. In the shareholder voting session that commenced before the deal, Heinz shareholders overwhelmingly approved the acquisition, with approximately 95 percent of the votes cast in favor of the merger agreement.
But now many more employees will join the 11 executives that left Heinz following the official acquisition's announcement, and hopefully not many more will follow.
Don't Miss: Whisper Number: How Will Macy's Stock Move After Earnings?