Heinz Enters Into Merger Agreement and 4 Hot Stocks Trading Now
Ulta Salon, Cosmetics & Fragrance, Inc. (NASDAQ:ULTA): Current price $87.47
Ulta announced that Chuck Rubin will step down as President, Chief Executive Officer and Director, effective February 21, 2013, to become CEO at Michael's Stores, Inc., a specialty retailer of arts and crafts. The Board of Directors has appointed Dennis K. Eck, current Non-Executive Chairman of the Board of Directors, as Interim CEO. Mr. Rubin has agreed to assist the Company during the transition period. The Board of Directors has formed a search committee made up of Mr. Eck, Robert R. DiRomualdo, Charles Heilbronn, and Kenneth T. Stevens to identify a permanent CEO and are in the process of retaining a leading executive recruiting firm to advise the board. The stock is currently down 11%.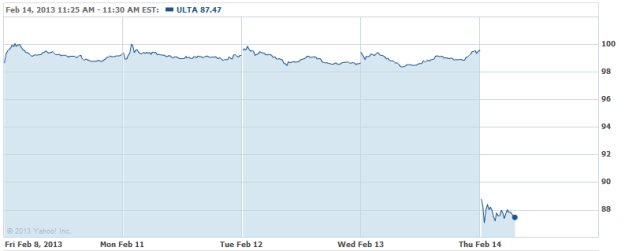 General Motors Corporation (NYSE:GM): Current price $28.14
According to the company, General Motors Corporation's United States defined benefit pension plans earned asset returns of 11.6% in 2012 and ended the year 84% funded. Their underfunded position stood at $13.1 billion, slightly improved from the prior year. As previously announced during 2012, GM settled approximately $28 billion of their U.S. salaried pension liability through a combination of lump sum offers and annuitizations. Under current economic conditions, GM said that they expect no mandatory contributions to the U.S. defined benefit pension plans for at least five years. While the company will continue to evaluate opportunities to make voluntary cash contributions,  they have no current plans to do so in 2013.

HJ Heinz Co. (NYSE:HNZ):  Current price $72.53
H.J. Heinz Company has entered into a definitive merger agreement to be acquired by an investment consortium comprised of Berkshire Hathaway (BRK.A) and 3G Capital. Under the terms of the agreement, which has been unanimously approved by Heinz's Board of Directors, Heinz shareholders will receive $72.50 in cash for each share of common stock they own in a transaction valued at $28 billion, including the assumption of Heinz's outstanding debt. The per share price represents a 20% premium to Heinz's closing share price of $60.48 on February 13, a 19% premium to Heinz's all-time high share price, a 23% premium to the 90-day average Heinz share price, and a 30% premium to the one-year average share price. Berkshire Hathaway and 3G Capital have pledged to keep their global headquarters in Pittsburgh.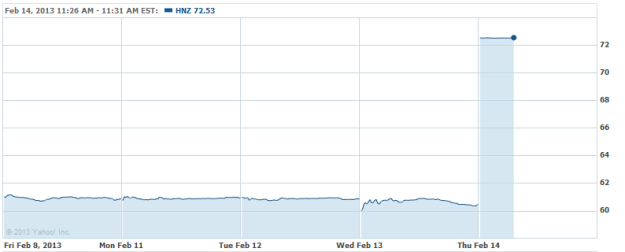 Weight Watchers International, Inc. (NYSE:WTW): Current price $45.49
On February 13, Weight Watchers International announced that Michael Basone, Chief Technology Officer and President, has informed the Company of his decision to resign in order to pursue other business opportunities. No successor has yet been named. In order to ensure a smooth transition, Mr. Basone will continue working closely with David Kirchhoff, the company's Chief Executive Officer, James Chambers, President and Chief Officer of Operations, and the other members of the firm's senior management team to take care of  business until his departure. Mr. Basone has entered into a retention agreement for his continued employment until his departure date.

GNC Holdings Inc. (NYSE:GNC): Current price $38.63
GNC Holdings Inc. has seen a fiscal year 2013 revenue growth of 9%-10%, a consensus of $2.67 billion, a CapEx of $50 million, and approximately 150 net new domestic retail locations in 2013.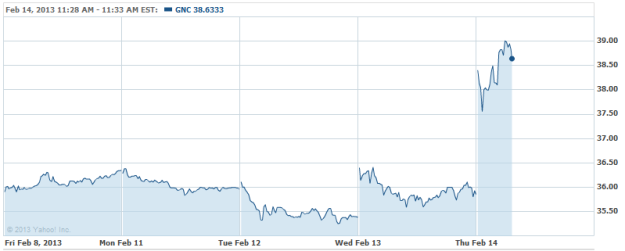 Don't Miss: Which Top Consumer Food & Beverage Stock has the Strongest Earnings Trends: Heinz, Coke, Starbucks or General Mills?