Heinz Shakes Up Its Board After Buffett Acquisition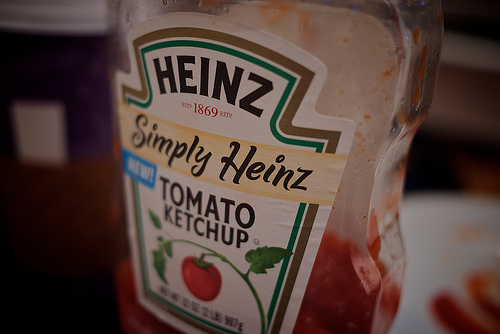 The board of H.J. Heinz Co. (NYSE:HNZ) is undergoing a big shake-up, with 11 of the company's executives leaving. The move comes a month after Heinz was purchased by Warren Buffett's Berkshire Hathaway (NYSE:BRKA) (NYSE:BRKB) and Brazilian investor Jorge Paulo Lemann's 3G Capital.
Many have questioned the steep price tag Berkshire and 3G were willing to shell out for the Pittsburg-based ketchup maker. The companies paid $28.8 billion for the takeover. Buffett said his confidence in 3G's "extraordinary" management skills allowed him to stretch a little on Heinz's price.
3G has already made significant changes in Heinz's management, including replacing Chief Executive Officer William Johnson, who held the post for 15 years, with former Burger King (NYSE:BKW) CEO Bernardo Hees. Paulo Basilio replaced Art Winkleback as Chief Financial Officer. Other newcomers to the board include Eduardo Pelleissone as vice president of operations and Andy Keatings, who will oversee food safety and risk management.
3G will be in charge of handling most of Heinz's operations. Berkshire's role will be more akin to a large shareholder than an actual owner of the company. Berkshire is such a large company, with a market cap of almost $250 billion, that it needs to make big deals in order to move the needle. Buffett has referred to these moves as "elephant deals."
Heinz is counting on growth opportunities in emerging markets. The company said it will be appointing new zone presidents for Russia, Turkey, the Middle East and Africa, Latin America, and the Asia-Pacific region soon. Moody's Investors Service has said that Heinz has "attractive future growth opportunities in emerging markets such as Brazil, Russia, and Indonesia. New and ongoing cost savings initiatives under the new ownership will be a key driver of earnings growth and financial deleveraging."
Heinz is a 150-year-old company with an iconic brand and well-loved product that Buffett is now counting on to return his ample investment.
Follow Jacqueline on Twitter @Jacqui_WSCS
Don't Miss: Gone Gluten-Free? Go to Dunkin Donuts.