Helen of Troy Limited Earnings: Beats the Street on Profit Rise
Helen of Troy Limited (NASDAQ:HELE) reported net income above Wall Street's expectations for the fourth quarter. Helen of Troy, Ltd. is a global designer, developer, importer and distributor of a portfolio of brand-name consumer products. It has two segments: Personal Care and Housewares.
Don't Miss: Wall St. Cheat Sheet's newest Feature Trades of the Month!
Helen of Troy Earnings Cheat Sheet for the Fourth Quarter
Results: Net income for Helen of Troy Limited rose to $24.4 million (77 cents/share) vs. $16.7 million (53 cents/share) in the same quarter a year earlier. A rise of 46.3% from the year earlier quarter.
Revenue: Rose 55.8% to $237.1 million YoY.
Actual vs. Wall St. Expectations: HELE beat the mean analyst estimate of 63 cents/share. Estimates ranged from 54 cents per share to 72 cents per share.
Quoting Management: Gerald J. Rubin, Chairman, Chief Executive Officer and President, commenting on the Company's results stated, "We are very pleased with our record fourth quarter and record fiscal year results. We continue to make progress in achieving our strategic business objectives initiated during the past year. During the fourth quarter, we utilized $77,498,000 of our available cash and $194,000,000 of financing for the acquisition of the Kaz business, giving us entry into exciting new product categories, under the well known and recognized Vicks, Braun, and Honeywell brand names."
Key Stats:
Gross margin shrunk 1.1 percentage points to 43.8%. The contraction appeared to be driven by rising costs as the figure rose 58.8% from the year earlier quarter while revenue rose 55.8%.
Over the last five quarters, revenue has increased 18.6% on average year over year. The biggest increase came in the most recent quarter, when revenue rose 55.8% from the year earlier quarter.
Competitors to Watch: Deer Consumer Products, Inc. (NASDAQ:DEER), Jarden Corporation (NYSE:JAH), iRobot Corporation (NASDAQ:IRBT), Global-Tech Advanced Innovations Inc. (NASDAQ:GAI), The Procter & Gamble Co. (NYSE:PG), Bialetti Industrie S.p.A. (BIA), Groupe SEB (SK), Electrolux AB (ELUXY), and Panasonic Manufacturing Malaysia Berhad (PANAMY)
Stock Performance: Shares of HELE are up 4.8% from the previous close of $29.90.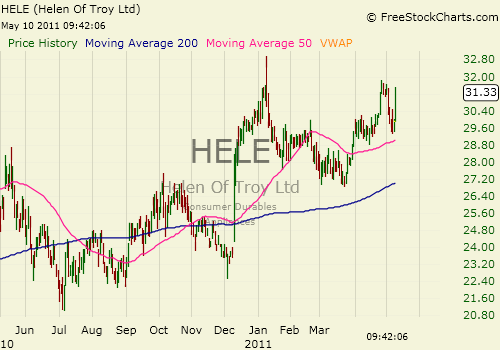 Don't Miss Wall St. Cheat Sheet's newest Feature Trades of the Month!