Herbalife Faces Investigation and 3 Hot Stocks Moving Now
Trina Solar Ltd. (NYSE:TSL): Current Price: $5.66
Solar installations in Europe is expected to make up 35 percent of global installations during 2013, according to DigiTimes Research. The European market hopes it will shift from high incentives as a means to steady installation growth during the upcoming year.

Humana Inc. (NYSE:HUM): Current Price: $78.66
The company has stated that it's on track for FY membership growth totaling nearly 20,000 for group Medicare Advantage and it believes that there is net growth in standalone PDP membership of 135,000 tp 175,000 for 2013. These comments were made on the Q4 earnings conference call.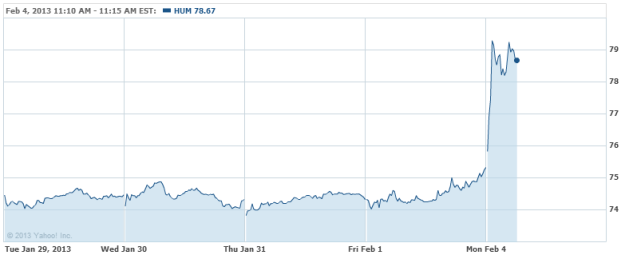 Rockwell Medical Technologies Inc. (NASDAQ:RMTI): Current Price: $6.68
The company has announced successful topline results from the PRIME clinical study of Soluble Ferric Pyrophosphate and the company's investigational iron-delivery drug is currently in Phase 3 clinical studies for the treatment of iron deficiency in hemodialysis patients. The PRIME study shows that regular administration of SFP-iron via dialysate lowered the amount of erythropoietin stimulating agents (ESAs) used during hemodialysis by 37.1 percent as it keeps iron balance and maximizing iron delivery.

Herbalife Ltd. (NYSE:HLF): Current Price: $32.83
Herbalife is the subject of a law enforcement investigation, New York Post reports, as it cites the information that was obtained through a Freedom of Information Law request. The documents have shown 192 complaints that were filed against Herbalife over the most recent seven years and the Federal Trade Commission has redacted some sections given to the paper, saying it didn't have to divulge "information obtained by the commission in a law enforcement investigation," according to the Post.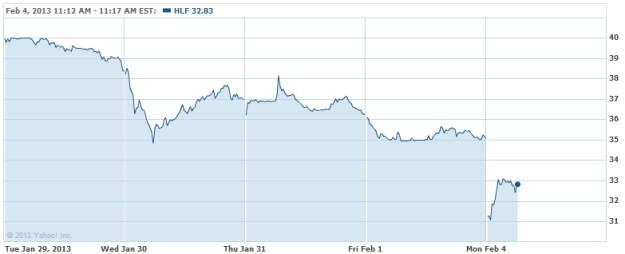 Don't Miss: Does the FTC Think Herbalife Is a Pyramid Scheme Too?