Herbalife Under Fire For Work-at-Home Recruitments and 4 Other Hot Stocks
JPMorgan Chase (NYSE:JPM) reports first quarter 2013 net income of $6.5 billion compared to $4.9 billion in 2012. EPS was $1.59 versus $1.19 last year. Quarterly revenue, at $25.8 billion, was somewhat lower than $26.8 billion last year. The figures include benefits of $650 million and $500 million from reduced mortgage loan reserves on real estate and from reduced credit card loan loss reserves in card services. The bank saw excellent performances across all its businesses and its balance sheet grew stronger with high quality liquid assets of $413 billion, Basel Tier 1 common capital of $143 billion (10.2 percent) and Basel III Tier 1 common ratio of 8.9 percent estimated. Second quarter common stock dividend  is boosted to $0.38 from $0.30. The bank is now authorized to repurchase up to $6 billion of common stock effective the second quarter. During the first quarter, the bank repurchased $2.6 billion of common equity. Jamie Dimon, Chairman and Chief Executive Officer, was optimistic about the economy saying it is  "healthy and getting stronger," but was concerned that "loan growth across the industry has been softer this quarter, although year-on-year growth remained strong. Small businesses remain cautious about the recovery and fiscal uncertainty, and are not investing their capital. However, companies' balance sheets are much stronger than they were before the financial crisis and small businesses remain well positioned to invest in growth once they decide to.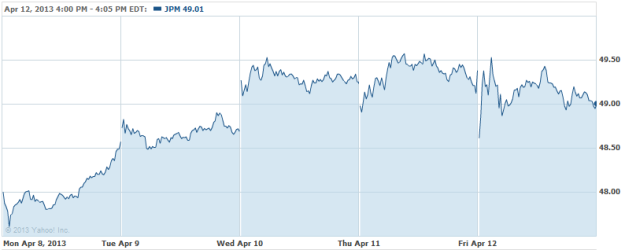 Wells Fargo (NYSE:WFC) reports Q1 EPS of $0.92 which is better than estimates by $0.03 and revenue of $21.3 billion which falls short of consensus by $0.29 billion. The bank declared a record net income Q1 2013 of $5.2 billion ($0.92 per share) compared to $4.2 billion ($0.75 per share) in the same quarter last year. Revenue was $21.3 billion compared to $21.6 billion in the first quarter 2012. Return on equity improved 145 bps to 13.59 percent. Loans grew by $29.5 billion to $798.1 billion while average core deposits were up by $55.4 billion to $925.9 billion. Credit quality improved with non-performing assets down by $3.8 billion to $22.9 billion. The better credit showing resulted in a loan reserve release of $200 million, pre-tax. Tier 1 common capital under Basel 1 improved by $14.1 billion to $113.6 billion compared to the year ago quarter, with Tier 1 common ratio standing at 10.38 percent as at the end of the quarter.Tier 1 common ratio under Basel III is estimated at 8.39 percent. First quarter dividend is raised to $0.25 per share and the bank repurchased 17 million shares of its common stock. "Our company earned $5.2 billion in first quarter 2013, the highest quarterly profit in our history—another milestone demonstrating how Wells Fargo's diversified business model continued to produce outstanding results," said Chief Financial Officer Tim Sloan. "This is our thirteenth consecutive quarter of EPS growth and eighth consecutive quarter of record EPS. Average loans and deposits increased in the quarter, expenses were lower, and credit metrics improved with the net charge-off ratio down to the lowest level since second quarter 2006."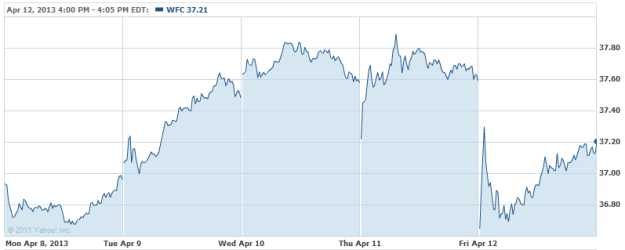 Herbalife (NYSE:HLF) is again in the news for the wrong reasons. A Freedom of Information request to the FTC from Bill Ackman's Pershing Square resulted in the release of 113 complaints against 'work-at-home' schemes that did not turn out as promised – of these over a hundred related to Herbalife. The complainants alleged that after applying to seemingly above-board 'work at home' schemes they found themselves being recruited to sell Herbalife products. The company has already been battling allegations, in particular by Bill Ackman, that its business is just an elaborate pyramid scheme. Herbalife responded to the FTC complaints by saying that the number of complaints to the FTC were low considering its size, and that work-at-home entities, "do not work on behalf of Herbalife and the practices are not condoned or encouraged by Herbalife.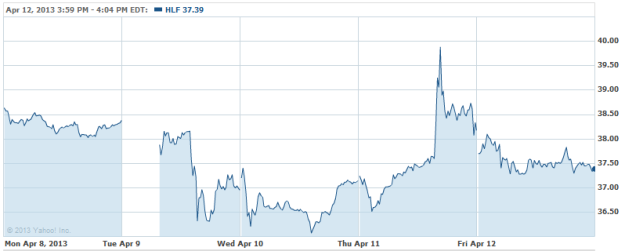 Six years after the private equity arm of Morgan Stanley (NYSE:MS) and buyout player Apax Partners took Chicago-based insurance brokerage Hub International private, the two partners are said to be considering selling it in a deal that could be worth about $2 billion. Sources who preferred to remain anonymous and cited by Reuters say that the discussions are at an early stage and no formal sale process has been launched at yet.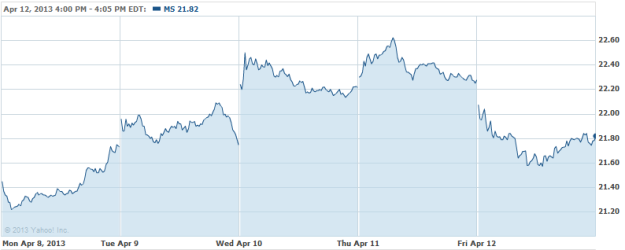 Infosys (NASDAQ:INFY) reports revenue of $1.938 billion during its fourth quarter 2013, an annualized growth of 9.4 percent. Net profit fell 4.1 percent year on year to $444 million. Earning per ADS was $0.78 for the quarter down 3.7 percent annualized basis. Liquid assets were $4.4 billion compared to $4.1 billion as at the end of the previous quarter. The software major declared a final dividend of Rs 27 per ADS, about $0.50 per ADS. The firm added 56 new clients and 8,990 employees during the quarter. For the fiscal year 2014, Infosys expects revenue to grow in the range 6 to 10 percent.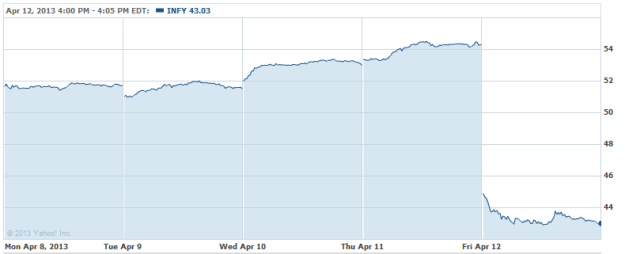 Don't Miss: Would Obama's Budget Make a Healthcare Workforce Crisis Worse?