Here's Why JPMorgan Shares are Flat After Earnings
One of the creatures from Jekyll Island, JPMorgan Chase & Co. (NYSE:JPM), kicked off bank earnings by announcing an improvement in credit card loans. The super-sized bank reported a 72.9% rise in net income — or $5.56 billion ($1.28 a share) on revenues of $25.79 billion versus earnings of $3.3 billion ($0.74 a share) on revenues of $28.17 billion a year earlier.
Shares are up ~1.25% to start the trading day.
What happened?
JPMorgan beat Wall Street expectations for $1.15 a share in earnings on revenues of $25.21 billion. Credit card loan reserves improved $2 billion. JPMorgan (NYSE:JPM) also increased its quarterly dividend to 25 cents a share from 5 cents a share. The company also plans to buy back $8 billion in stock this year as part of a $15 billion stock buyback program.
CEO Jamie Dimon noted:
"The Firm's results reflected a strong quarter across the Investment Bank and solid performance from Card Services, Commercial Banking, Treasury & Securities Services, and Asset Management. These results partially benefited from improved credit trends in our credit card and wholesale businesses.

Retail Financial Services demonstrated good underlying performance, while we continued to invest in building branches and adding to our sales force. However, this performance was more than offset by the extraordinarily high losses we still are bearing on mortgage-related issues. Unfortunately, these losses will continue for a while. Rest assured, we are fully engaged in fixing our problems and addressing our mistakes from the past, and we will strive to build the best mortgage business going forward.

We strengthened our fortress balance sheet, ending the first quarter with a strong Tier 1 Common ratio of 10.0%. Looking forward, we intend to operate the business with the objectives of maintaining a Basel I Tier 1 Common ratio of at least 9.0% and meeting the Basel III requirements substantially ahead of time. Our earnings power will allow us to generate significant capital in excess of our objectives, enabling us to invest aggressively in our future."
What are the risks going forward?
JPMorgan is obviously heavily dependent on the economic recovery. As Jamie Dimon noted, real estate related assets will continue to be a drag on the business. However, the company hired 16,300 new employees over the last 12 months and increased shareholder dividends. These are signs the company believes the future will continue to outperform the past.
Key Competitors to Watch: Wells Fargo (NYSE:WFC), Citigroup (NYSE:C), Bank of America (NYSE:BAC), and US Bancorp (NYSE:USB).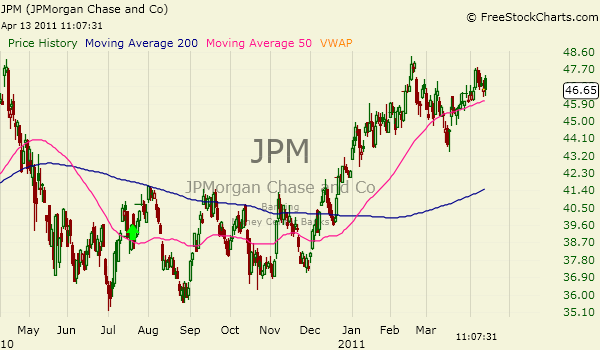 Get more details about JPMorgan's fundamentals and technicals at our high tech research platform.