Here Are 5 Hurdles for Obamacare to Jump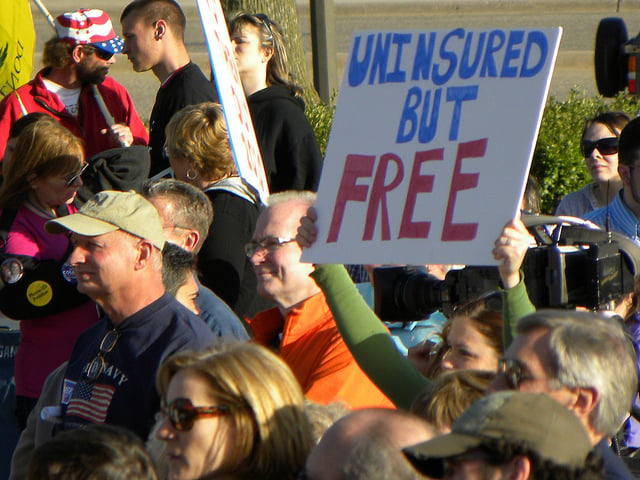 From the Republican party's perspective, so clearly elucidated by Senator Ted Cruz of Texas during an August interview with radio host Rush Limbaugh, the reality is that if the cornerstone provision of the Affordable Care Act — the individual insurance exchanges — are allowed to take hold and flourish, the United States will find itself on the slippery slope to socialism and a destroyed health care system, with another entitlement program that will bankrupt the country.
Comparatively, the Democrat party's reality is that the health care reform, known popularly as Obamacare, would expand health insurance coverage, improve the quality of care, and slow the growth of health costs. Yet, these individual insurance exchanges have been open for less than a month, and it will be years befor the complete impact can be properly assessed. What is already clear is that if the Affordable Care Act's initial start-up problems are dealt with, the legislation could bring health insurance to millions of currently uninsured Americans. But it could also create a fiscal mess that President Barack Obama's successor will need to unravel. Only time will tell.
What happened on October 1, the day the exchanges opened for enrollment, was that the "policy debate about Obamacare" evolved into "a reality outcome debate: What impact does it have on millions and millions of Americans, and do they judge it to be good or bad?" as Republican pollster Bill McInturff told NPR. Here is a look at five hurdles the Affordable Care will have to navigate before any significant analysis of the reform's success or failure can be made.
1. Enrollment
The primary aim of Obamacare is to make health insurance affordable enough that most Americans can afford a policy. The exchanges were designed to allow consumers to comparison-shop for health insurance policies in online marketplaces where their collective bargaining power will theoretically foster competition and drive down prices. To further expand coverage, insurers have been prohibited from excluding those with pre-existing conditions, which makes the penalty for those who do not purchase insurance necessary.
What remains to be seen is whether the penalties — which in 2013 will amount to $95 or 1 percent of income, whichever is greater, and increase to $695 or 2.5 percent of income by 2016 — will be high enough to entice the young, cheap-to-insure Americans needed to balance out the individuals who will incur higher medical bills.
The Obama administration has predicted that approximately 7 million people will obtain insurance through the exchanges next year, of which administration has estimated that between 2.6 million and 2.7 million must be young, cheap-to-insure, individuals. Without their enrollment, insurers will have to raise everyone's premiums. So far, fifteen days into the six-month enrollment period, exact numbers are unknown; the administration has said it will release enrollment numbers in November.
2. Technical Problems
More immediately, how soon the glitches that plagued the opening days of the individual insurance exchanges can be resolved will be a small measure of early success. At the most basic level, the insurance exchanges have to work for them to be successful, and to work, exchange enrollees must be able to shop for coverage on the exchanges free from technical glitches, or at least, overwhelming technical glitches that could discourage them from purchasing plans.
From the results of an early poll conducted last week by the Associated Press, around three-quarters of those 20 million who attempted to enroll reported problems with the system. While marketplaces developed by states have run into problems, the majority of technical issues reported have been experienced by users of the webportal, healthcare.gov, that will links customers to the online marketplaces for the 36 states that defaulted to federally-facilitated exchanges rather than creating their own.
3. Affordability
The next, and ultimately more pressing measure of success, is whether the coverage offered on these marketplaces is affordable. Of course that determination is complicated. How much an individual's insurance costs will change because of Obamacare depends on a whole host of factors. It depends on age, current health status, state of residence, and of course whether the individual (or family) was insured before purchasing a policy via the Obamacare-mandated insurance exchanges.
For example, those who are uninsured and have a preexisting condition will likely pay less for coverage than they would in the current private market. Without accounting for subsidies, those who uninsured but young and healthy will likely pay more, those who are insured through their employer will likely experience few changes, and some 13 million Americans who are currently uninsured will pay little to nothing because they will become eligible for Medicaid.
Plus, a vast majority of those buying plans on the individual exchange — 80 percent, according to the Congressional Budget Office, will receive subsidies of varying amounts to make insurance more affordable. Already, the president has abandoned his pledge to allow Americans to keep their existing coverage.
4. Lower Health Care Spending
Over the long-term, Obamacare was packaged as a means to "bend the cost curve" of soaring health care costs downward, and whether the United States spends a larger percentage of its gross domestic product on health care will be an important gauge of success for the act as well. On one hand, Medicare providers will be paid for the treatment of an illness as a whole rather than the treatment of individual procedures so that health care providers will no longer have an incentive to perform unnecessary procedures. In addition, the Cadillac tax was devised on very costly health insurance plan to give an incentive to avoid policies with generous coverage.
But the fact is that providing insurance to millions of people will increase the use of medical services. Centers for Medicare & Medicaid Services, or CMS, has estimated that private health insurance spending growth held constant at 3.8 percent in both 2011 and 2012, growth equivalent to half pre-recession levels. In 2013, growth is also projected to come in at 3.8 percent.
But there is no sign that the Affordable Care Act was responsible for drop in health care-related costs. Rather, the economic recession has been cited as the culprit, which seems reasonable given that costs are expected to jump 6.1 percent in 2014, the year the individual insurance mandate is implemented. With more affordable access to health care, the use of goods and services among the newly insured is expected to contribute significantly to spending increases in Medicaid, by 12.2 percent, and private health insurance, by 7.7 percent.
5. Financial Viability
Lastly, there is the problem of financing. New taxes on high-cost health insurance plans, medical devices, tanning salons, and capital gains and dividends were levied in order to support subsidies, but as the New York Times' Phillip Swagel noted, these taxes are under siege. The tax on medical taxes could be eliminated as part of the federal budget negotiations and unions are currently lobbying for the government to eliminate the tax on high-cost health insurance plans.
Added to this is the problem that it will be very difficult to implement Obamacare as it was enacted. Richard S. Foster — a former chief actuary of the Medicare program — told the Times that the law's Medicare savings, which are based on cutbacks in payments to hospitals and other health care providers, were probably unsustainable and could jeopardize access to care for Medicare recipients. At the same time, the Affordable Care Act increased payments for Medicaid recipients in 2013 and 2014, after which payments would decrease, likely making it difficult for the newly eligible to find a doctor.
A related concern is that the Obama administration has claimed that the health care reform will extend the life of the Medicare trust fund, but, according to Swagel, the Medicare payment cutbacks cannot finance both the Affordable Care Act and support Medicare. If costs rise higher than expected and tax revenues cannot offset those higher expenses, could leave the federal government with a big fiscal problem, as policy expert Charles Blahous has warned.
The Affordable Care Act is not likely to last if it places a severe drag on economic growth and job creation or if its costs turn out to be much larger than the Congressional Budget Office has predicted, as Blahous believes they will be.
"Despite its supporters' hopes, the 2010 legislation was fiscally reckless, markedly increasing the government's already-unsustainable health spending commitments at a time of record deficits," wrote Blahous in a post on Real Clear Markets. "The problem lies with the nature of the law itself, promising trillions in new government benefits while relying on dubious financing mechanisms."
The dubious financing mechanism to which he referred is that the Affordable Care Act's projected savings from Medicare payment reductions were "doubly committed." Those savings were meant to both extend Medicare solvency and fund the massive coverage expansion. According to his calculations, which counted the savings only once, the health care reform will add $340 billion to federal deficits in its first decade. Both the Congressional Budget Office and the Medicare Chief Actuary alerted Congress to the problem at the time, added Blahous.
Follow Meghan on Twitter @MFoley_WSCS
Don't Miss: Why Does the GOP Really Hate Obamacare?