Here are Scary Charts of Food Prices Back to 30-Year Highs
2011 is already feeling a little like 2007 when it comes to food (NYSE:DBA) and oil (NYSE:UCO) prices.
The Food and Agriculture Organization of the United Nations has some nice charts to help us visualize the scary resurgence of inflation in food prices: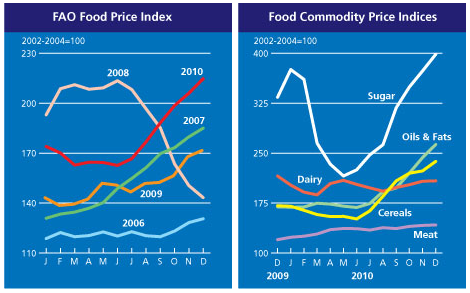 If you've been in a market lately, you already know sugar (NYSE:SGG), oil & fats, and cereals have surged the most.
The FAO notes we're seeing historically high prices again:
By mid-2008, international food prices had skyrocketed to their highest level in 30 years … Though food prices have fallen from those 2008 peaks, they are higher than they were before the onset of the food price crisis and will likely remain volatile.
Unfortunately, a strengthening global economy coupled with a monetization of the US debt spells danger for where prices may head in 2011.
Profit from the News: Find out which stocks stand to benefit most in Your Cheat Sheet to Investing in Agriculture >>