Here Are Some Surprising Findings About Hunger In America
Nearly a quarter of Americans report that they've been unable to afford food for their families in the last year, a figure that's up from 16 percent before the Great Recession.
According to a survey done by the Pew Research Center, 24 percent of Americans report not having been able to afford food their families needed in the last year. The U.S. was a surprising outlier in the study.
Most of the findings revealed that hunger was related to national wealth. In Uganda, Senegal, Kenya, and Ghana, which were the poorest countries surveyed, half of respondents reported not having enough to eat. In most wealthier countries, like Canada, Australia, and Germany, only one in ten people said they couldn't afford enough food.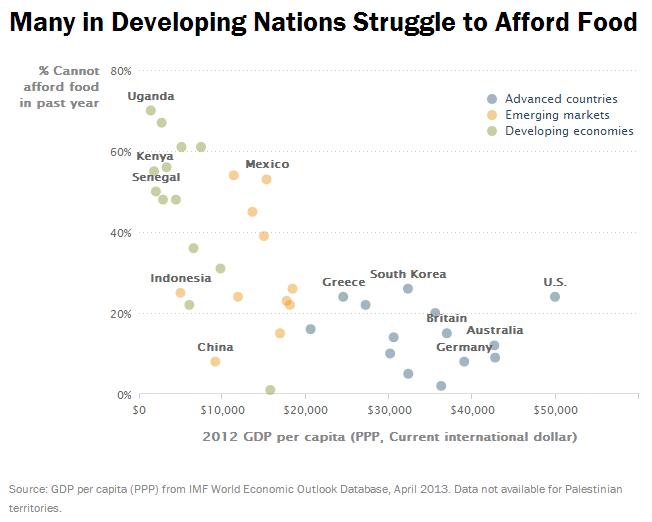 While the U.S. was the wealthiest country surveyed, its reported deprivation was closer to countries like Indonesia and Greece than Germany or Canada. Americans go hungry twice as much as Italians and Canadians, and three times more than Germans.
The study found that people living in advanced economies were the most pessimistic about the economy, but also experienced the least deprivation. People in emerging nations tended to feel more positive about the economy while experiencing much higher rates of deprivation.
The information was collected as part of the research center's Global Attitudes Project.
Don't Miss: AAII Sentiment Survey: Pessimism Reaches Its Lowest in One Year.