Here Is McDonald's Plan to Combat Slow Service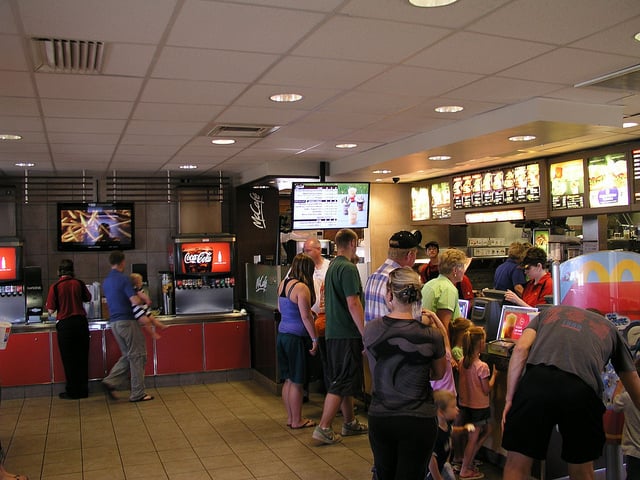 There is nothing worse for a fast food business than to get a reputation for slow service. Unfortunately for McDonald's (NYSE:MCD), recent feedback shows customers are drawing that conclusion after a slew of new menu items forced employees to slacken the pace of delivery. McDonald's plans to add work stations and a third drive-through window in order to speed up service to meet company standards.
According to The Wall Street Journal, a meeting held at company headquarters November 14 highlighted the struggles of McDonald's following an earnings report showing little growth in its overall business. President Jeff Stratton told investors the company introduced its new menu items too fast, which led to sluggish service that is unacceptable to fast food customers, WSJ reports.
In order to combat the problem, McDonald's is scrapping renovation plans at many locations in order to add prep stations that will keep the pace customers expect. The L.A. Times reports McDonald's also has a third drive-through window in the cards in what is called its Fast Forward Drive-Thru system. This element of the McDonald's business is too important to ignore.
According to an analyst for Pacific Management Consulting Group, drive-through customers make up more than two-thirds of McDonald's business, the L.A. Times reports. Tests conducted by trade publication QSR recently showed McDonald's is lagging behind both Wendy's (NASDAQ:WEN) and Taco Bell in drive-through window speed.
In addition to losing to competitors on efficiency, McDonald's fell below its own standards by posting its slowest times in over a decade. Customers who want a fast food meal clearly don't want to wait in restaurants such as McDonald's, even though the menu may have expanded.
Jeff Stratton told investors that the company is ramping up training to get employees up to speed while asking for more feedback from customers in the coming months, the Wall Street Journal reports. Since the fast food giant has seen an increase in complaints, McDonald's hopes additional feedback channels will allow stores to keep customers happy. Otherwise, all the new menu items will have fewer customers to impress.
Don't Miss: Has Sequestration Rocked Lockheed's Boat?