Here Is Where Republicans and Democrats Agree on Obamacare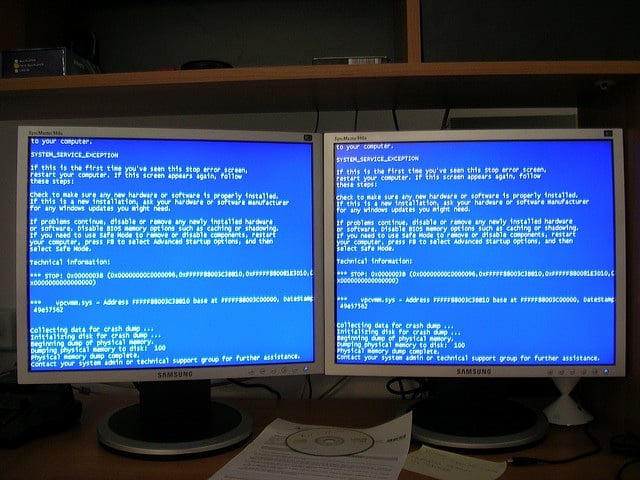 The cornerstone provision of the Affordable Care Act — the online marketplaces that allow consumers to comparison shop for insurance policies — was derailed when a key computer server failed on Saturday. The outage provided irrefutable evidence that ongoing problems plaguing the technical supports of the health care reform law are more than mere teething problems for not only Republican lawmakers, many of whom have opposed Obamacare since its inception, but for Democrats as well.
A notice posted to the website Saturday evening cautioned potential insurance customers that the system was down. "We are experiencing technical difficulties and hope to have them resolved soon," the notice said. "Please try again later. In a hurry? You might be able to apply faster at our Marketplace call center. Call 1-800-318-2596 to talk with one of our trained representatives about applying over the phone." The data services hub — which was engineered by UnitedHealth's (NYSE:UNH) Quality Software Services unit — was unable to supply tax information to the websites of the 36 federally-facilitated websites after a malfunction at data center that hosts it
The Verizon Communications-operated (NYSE:VZ) data center lost connectivity after workers attempted to replace a broken networking component, Department of Health and Human Services spokeswoman Joanne Peters told Bloomberg via email. "Today, [Verizon] had a network failure that is impacting a number of their clients, including HealthCare.gov," she expounded in a statement late Sunday. "Secretary [Kathleen] Sebelius spoke with the CEO of Verizon this afternoon to discuss the situation and they committed to fixing the problem as soon as possible."
Since the outage affected the data hub that connects tax information from the Internal Revenue Service to the online marketplaces, potential enrollees in states that chose to build their own insurance exchanges were also not able to complete the sign up process if they were eligible for a tax credit because the subsidies could not be calculated. "HealthCare.gov is a dynamic website," Peters added in the statement. "As with all websites, we try to make meaningful enhancements and improvements that will help users understand key information, while maintaining the overall familiar design and navigation elements that are working well."
Since the October 1 launch of the federal exchange, the website, healthcare.gov, has been plagued by delays and error messages. Already, Sebelius has been grilled regarding the software errors that caused hours-long wait times, prevented potential customers from creating accounts and completing the 30-step enrollment process, sent insurers the wrong information, and made it difficult for customers to get an accurate cost estimate.
In a Tuesday interview, CNN's Chief Medical Correspondent Dr. Sanjay Gupta pressed the secretary about why the White House decided to move forward with the rollout even though the website had crashed while being tested with just a few hundred people logging in, as the Washington Post first reported. She responded that "waiting was not an option," and she was optimistic that the rollout would be smooth. "We moved forward because millions of people have been waiting for health care insurance," Sebelius told Gupta. Comparatively, the state-run exchanges have suffered far fewer problems.
Technical problems mean enrollment problems for the Obama administration. "If they can't get it fixed for most people by mid-November, they start raising questions about who's going to enroll and concerns about adverse enrollment," said Gail Wilensky, a former administrator of HCFA, told Bloomberg last week. Jeff Zients — a health-care entrepreneur who has served as the acting director of the Office of Management and Budget — is slated to replace Gene Sperling as director the National Economic Council beginning January 2014. A long time Obama adviser and expert management consultant, he will collaborate with the Department of Health and Human Services, HHS, to address the problems.
In an October 25 statement, Zients said healthcare.gov will function smoothly by late November. But that leaves a very small window for customers to apply for coverage via exchange before the deadline of December 15, which is the last day policies beginning January 1 can be bought. Of course, the Obama administration has clarified that the fine for failing to purchase insurance coverage will only be levied against those Americans who did not purchase coverage by the end of the six-month enrollment period, March 31.
But while Zients has argued that healthcare.gov "is fixable," it is symbolic that the website launch page for healthcare.gov has changed. No longer does it feature a smiling young woman, an image that has become closely associated with the federal exchange. In her place is a graphic, with the headline "4 Ways to Get Marketplace Coverage," and four icons that link to a different connection option: a phone line, the website, in-person assistance, and a paper application. The satirical publication, the Onion, took the opportunity to run digitally alter version of that young woman with a concerned expression and the headline: "People In Healthcare.gov Stock Photos Now Visibly Panicking."
Meanwhile, lawmakers are pushing for legislation that would delay the individual mandate that requires all Americans who can afford to purchase coverage do so or face a fine. Both Democratic and Republican lawmakers are expressing concern over the botched rollout of the insurance marketplaces. Senator Joe Manchin III (D-W.Va.) is advocating for a one-year delay of the mandate while Senator Jeanne Shaheen (D-N.H.) crafted a letter, which was signed by ten Senate Democrats, urging the Obama administration to extend the deadline.
"My goal is to fix the Affordable Care Act to make sure those people can get that access to health care," Jeanne Shaheen said on CBS's "Face the Nation." Rollout was a disaster, she added. In her opinion, it is only fair to extend the enrollment period because many people's efforts to enroll have been stymied by technical glitches.
So far, the administration has rejected all extension proposals. Insurers have spoken out against the idea of postponement, partly because they have already priced policies on the belief that 2014 would see millions of young and healthy individuals, who are cheap to insure, signing up for coverage via the exchanges. Those individuals are expected to balance out patient risk pools and their premiums will compensate for the relatively higher medical costs incurred by older and sicker individuals.
But, for many lawmakers, the rollout not the only disaster. "The president made promises that this was going to be cheaper than your cellphone bill, easier to use than Amazon (NASDAQ:AMZN), and you can keep your doctor," Senator John Barrasso (R-Wyo.) told George Stephanopoulos on "This Week."
"People all across the country, George, are seeing that's just not true." While, in reality, whether insurance premiums rise are fall are highly dependent on an individual's circumstances, a March study commissioned by California's health insurance exchange, calculated that residents who were currently purchasing insurance on the individual market and whose incomes were too high to qualify for a subsidy, would see premiums jump 30 percent because of the Affordable Care Act. To be eligible for the tax credit, the income of a family of four must be equal or less than 400 percent of the federal poverty level, or $94,200 in 2013 dollars.
Plus, Kaiser Health News reported that insurance companies across the country have sent cancellation notices to hundreds of thousands of people with private plans, information them their coverage would be terminated at the end of the year. Blue Shield of Florida alone sent notices to 300,000 people. For insurance companies, the motivation is that beginning on January 1, most private insurance plans must cover ten basic benefits, including maternity care and mental health. Currently many plans do not cover those mandatory benefits and so they are being discontinued.
However, on NBC's "Meet the Press," Florida Blue Cross Blue Shield chief executive Patrick J. Geraghty argued against the characterization that insurance plans are being canceled. Rather, he suggested that the move is more like upgrading. "We're not cutting people — we're transitioning these people," he said.
"What we've been doing is informing people that their plan doesn't meet the test of the essential health benefits. Therefore, they have a choice of many options we make available through the exchange, and in fact, with subsidy, many people will be getting better plans at a lesser cost." But that has not prevented many families and individuals who are seeing their policies "transitioned" from panicking. Gerald Kominski, director of the UCLA Center for Health Policy Research, told the Washington Post that many suspected the transition was a "back-door" avenue for insurers to dump high-cost patients into the insurance exchanges.
As many opponents to the Affordable Care Act point out, this change goes against what President Barack Obama pledged while campaigning for the health care reform law. On many occasions, he said that, "If you like your doctor, you can keep your doctor. If you like your current health insurance plan, you can keep it."
Follow Meghan on Twitter
@MFoley_WSCS
Don't Miss: 7 Unhealthy Everyday Foods: Processed and Problematic.