Here Is Why Goldman Sachs Employees Stick Around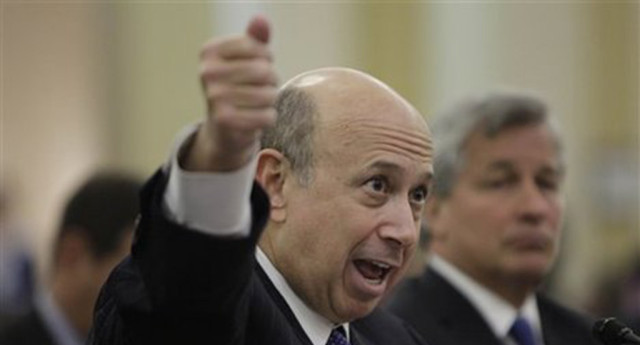 Employment numbers show little mobility on Wall Street. As the Wall Street Journal reported Wednesday, the average tenure of a Goldman Sachs (NYSE:GS) senior employee is more than nine years, a jump from the average 7.6 years that those with the rank of vice president or higher had worked in 2001. This change is not a mere peculiarity of Goldman Sachs as evidence suggests that bankers, traders, and other Wall Street employees are finding fewer reasons and perhaps fewer opportunities to leave.
Not only has economic growth been relatively anemic since the recession ended, but many Wall Street firms have increasingly deferred bonuses for several years and stricter regulations, limiting risk-taking that have made firms less concerned about hiring aggressively. "It's not that easy to go," Michael Karp, chief executive of financial-recruiting firm Options Group, told the publication about Wall Street employment. "You don't have the opportunity you had before the crisis," he added, noting that the number of financial-services job transfers handled by his firm have dropped by around 25 percent annually.
Through sources familiar with hiring at large Wall Street banks, the Journal also learned that average tenures for senior employees have lengthened at Bank of America (NYSE:BAC) and the investment bank at JPMorgan Chase (NYSE:JPM), where senior employees work an average of nine years, just as they did in 2012.
The explanation for senior employees' long tenures that Goldman Sachs gave reporters is that the company works hard to keep them — a fairly standard response. Of course, the longer stays also builds their experience and gives them stability in an industry forced by increased regulations to transition away from higher-risk trading. Or, as company Chair and Chief Executive Officer Lloyd Blankfein explained during a Tuesday presentation to investors, "given the cyclical nature of our industry, experience matters." It matters for employees building resumes, and it matters to Goldman, which is trying to ease investors concerns over last quarter's less-than-spectacular results through highlighting the stability of its leadership team.
On October 17, Goldman Sachs reported better-than-expected third-quarter profit, but investors confidence was shaken by the corresponding drop in revenue. Revenue dropped 22 percent from the second quarter and 20 percent from the year-ago quarter. "The third quarter's results reflected a period of slow client activity," Blankfein said in a press release accompanying the results, while Chief Financial Officer Harvey Schwartz said several times over the course of the company's earnings conference call that he was "not happy with the results."
So far, during this earnings season, the results of most bank show that mortgage lending declined and bond trading was weaker-than-expected in the three-month period. While Goldman does not originate mortgages, bonding trading is a large part of its business. Revenue at its bond trading unit fell 44 percent from the year-ago quarter.
Goldman's latest effort to promote the stability of its leadership comes as investors digest the last quarters results. On Wednesday, the financial firm announced that it had selected 280 individuals to promote to Managing Director, a senior position one rung below partner. That number was about 5 percent more than last year. However, now Goldman has decided to mint a new class of Managing Directors every two years rather than every year, a change that reflects the fact fewer employees are moving on.
"If you keep bringing in new MDs, but don't have the old ones leaving, those ranks can swell more than they'd like," Jeffery Harte, an analyst with Sandler O'Neill + Partners, told the Journal. "You don't want to become too MD or too partner-heavy in your employee mix because that goes a bit against the concept of trying to keep costs down."
Follow Meghan on Twitter @MFoley_WSCS
Don't Miss: Can Big Banks Help the IRS Catch Tax Evaders?