Here Is Why Wal-Mart's Q3 Revenue Increase Didn't Cut It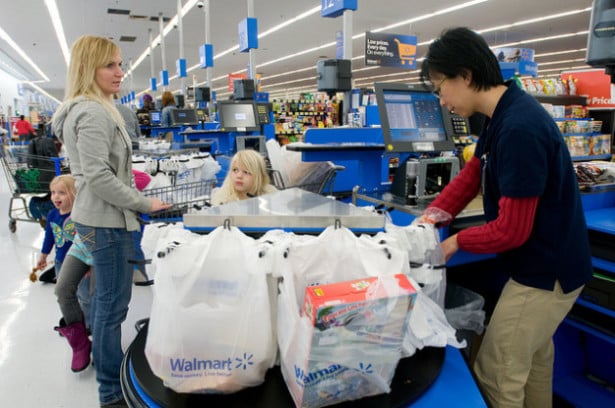 While earnings did improve for Wal-Mart (NYSE:WMT) this quarter, with diluted earnings per share increasing 6.5 percent from last quarter's $1.07, the third-quarter's $1.14 per-share earnings didn't quite meet expectations. Net sales went up 1.6 percent, up from $1.8 billion to $114.9 billion, and revenue came in at $115.7 billion, up 1.7 percent from last year, a rise of $1.9 billion — according to the WalMart press release. Analysts had been expecting a revenue of $116.81 billion, according to the Wall Street Journal, placing WalMart under by a fair amount.
Same-store sales suffered this quarter, with the exception of fuel, and fell 0.1 percent compared to last years 1.7 percent growth. "WalMart delivered solid earnings growth that was within our guidance range. We had strong operating income across our segments, with WalMart U.S. growing almost 6 percent, Sam's Club increasing more than 9 percent, and International up 8 percent on a constant currency. Our most important priority is growing top line sales, including comp sales," said Mike Duke, the president and chief executive officer of WalMart in the company release.
"The retail environment, both in stores and online, remains competitive. WalMart has aggressive plans to help our customers enjoy the holiday season, and there is no doubt that we plan to win for our customers and shareholders throughout the holidays," said Duke.
According to the Wall Street Journal, Wal-Mart is expecting the decrease in food stamp funds to have a major impact on its holiday sales — with 48 million individuals spending $5 billion less than they could have last year. There's also the payroll tax cut, which has been moved up this year and will take 2 percent from monthly paychecks.
WalMart reports that around 18 percent of total outlays on food stamps  — $14 billion of the $80 billion for 2012. Wal-Mart also started its holiday season a bit earlier this year with its holiday layaway program appearing in September, and seasonal discounts on electronics and toys already begun in late October.
Don't Miss: Kohl's Keeps Holiday Optimism After Weak Third-Quarter.