Here's a Look at the Ever-Changing World of Electric Vehicles
With increased sales come increased regulations, or so the electric vehicle industry has discovered. Electric and hybrid-electric car sales now make up 4.1 percent of all light-vehicles sold in the United States, as compared to 2.1 percent in 2011, making new regulations necessary.
To prevent the vehicles' soundless engines from catching bicyclists and pedestrians by surprise, the U.S. National Highway Traffic Safety Administration proposed a new rule on Monday that would require electric cars to produce a sound when traveling below 18 miles per hour. This measure would save 35 lives and prevent 2,800 injuries per year, the agency told Bloomberg in an emailed statement.
As the publication reported, if the regulation was finalized, the required part would cost manufacturers approximately $30 to $35 per car or $25 million per year.
Shino Yamada, a Tokyo-based spokeswoman for the Toyota Motor Corp. (NYSE:TM) told Bloomberg that the company, which has designed its hybrid models sold in Japan and the U.S. to emit a sound when the engine is running, has the NHTSA's proposal under review.
Save time and make money with our LOWEST ADVERTISED PRICE EVER to help you achieve your financial goals in 2013. This is a LIMITED TIME OFFER, so get your Stock Picker Newsletter now!
General Motors (NYSE:GM): Current Price $29.39
Until it is finalized, the NHTSA's proposed regulation is only a backdrop to the current trend dominating the electric-vehicle industry: growth.
In 2012, General Motors became the first American car manufacturer to sell more than 1 million vehicles with a 30-mpg fuel rating. The Detroit automaker's surge came in part from growing demand in California and in part from record-high gasoline prices, which caused sales of its electric model, the Chevy Volt, to triple.
The success of 2012 has, at least temporarily, put the failures of the previous year to rest. The manufacturer fell short of its sales targets in 2011, as criticism surrounding the Volt's performance increased. The car was called "crappy" and labeled an "exploding Obamamobile" by negative reviewers. But this year, Motor Trend noted that the "Chevrolet Volt … saw sales leap 206 percent from just 7671 units in its difficult first year on the market to a respectable 23,461 cars in 2012."



Tesla Motors (NASDAQ:TSLA): Current Price $33.70
Success is not found solely in the realm of large manufacturers. Rumors dotting Tesla's Model S forum indicate that the electric vehicle manufacturer experienced a surge of activity in its fourth quarter that could help the company reach its quarterly production goal. According to the San Jose Mercury Times, the Tesla Motors Forums "are a rabbit hole of rumors, real information, spreadsheets and VIN numbers," but nevertheless, the publication reported that there was a surge in Model S deliveries in the final days of 2012.
For a company that was projected to lose money in the fourth quarter by analysts surveyed by Thomson Reuters, this is good news. However, it is not spectacular news. Tesla has already worried investors about its production capabilities; in September the company cut forecasts for the quarter, citing a decrease in planned deliveries of its Model S Sedan.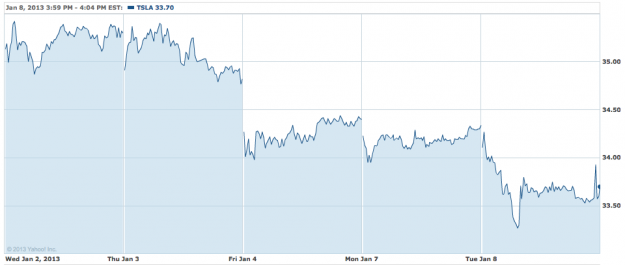 Don't Miss: What's Raining on GM's Parade?