Here's a Look at the Rise of Alternative Investments
The centerpiece of the widely adopted Modern Portfolio Theory is that having a diversity of investments can lead to greater returns without increased risk. But during the financial upheaval of 2008 and 2009, many investors learned the hard way that their assets were too highly correlated. The result: once bitten, twice shy investors have record cash sitting on the sidelines. Grofolio has created an innovative way for accredited investors to put their capital to work again.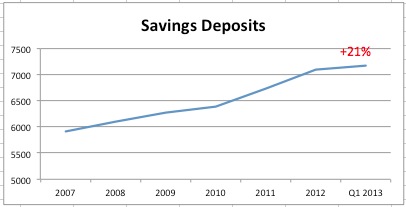 Meanwhile, many institutional investors modified their investment approach to follow the Yale Endowment Model. Espoused by David F. Swenson, Yale's Chief Investment Officer since 1985, portfolio theory:
Has a strong bias towards equities
Suggests less liquidity is good; that investors pay a premium for liquidity and there are rewards for investors who can hold assets for long periods of time
The popularity of the Yale Endowment Model has led to an explosion in alternative assets — generally private equities, including direct investment in individual companies and funds. A McKinsey and Company report titled "The Mainstreaming of Alternative Investments" showed that alternative assets, or alts, increased from 7.7 percent to 14.3 percent of total global assets under management between 2005 and 2011. The same report said institutional investors planned to increase allocations to almost all alternative classes in 2013.
Diversification underlies adoption of alternative assets. By placing capital across investment categories, investors can earn higher returns without greater risk – a free lunch. The chart below shows correlation across asset classes. A correlation of 1.00 means assets move in perfect tandem; when one increases by 10 percent, so does the other. A 0.00 correlation indicates no relationship between returns. The graph of one year (ending August 28) returns shows the real world result — major US and international indices move in tandem, virtually the equivalent of no diversification.
The results of adding private equities into a portfolio? Harvard's endowment achieved 12.5 percent annualized returns over the last 20 years, including the financial meltdown, according to The New York Times.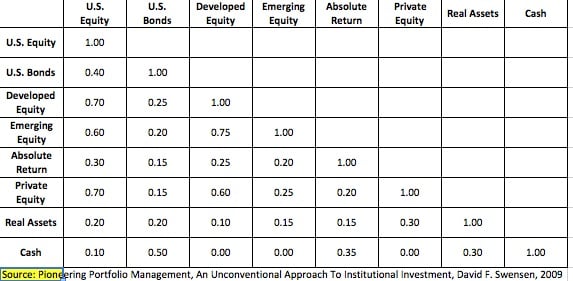 Retail investors trail institutions in the shift to alts, which account for 9 percent of the global retail market, versus 16 percent for institutions. High net worth investors individual adoption is lower due to the time and complexity of investing in them. By their very nature, there is less public, third-party information. Further, the variety of alternative investment classes makes it hard for an individual to evaluate and build a portfolio.
The amount of dollars at stake is astounding. The World Bank measures total U.S. market cap at $18.7 trillion. If retail investors, who Columbia Business Law Review says own 26 percent of equities, catch up to institutions in terms of allocations in alternatives, that would mean $327 billion shifted away from traditional assets.
Innovative alternative investment marketplaces like Grofolio seem poised to spur widespread adoption of alternatives by HNWI, who can afford longer investment horizons. Grofolio makes it easier and more efficient for HNWIs to identify, evaluate, and invest in the right alternatives for their portfolios. This, in turn, should release the excess capital 'sitting on the sidelines' while providing the capital necessary to grow America's small businesses.
Dave Milliken is the CEO of alternative investment marketplace Grofolio.com. Dave has extensive marketing leadership experience with MillerCoors, Louis Vuitton Moet Hennessey, The Scotts Miracle-Gro Company, and Smashburger, #99 in the 2011 Inc. 500. Dave holds an MBA, finance emphasis, from NYU and a BBA from Emory University.
Don't Miss: Post-Financial Crisis: America's Youth Is Not Hopeless.