Here's a Peek Into Ford's 'Long Journey' Ahead in China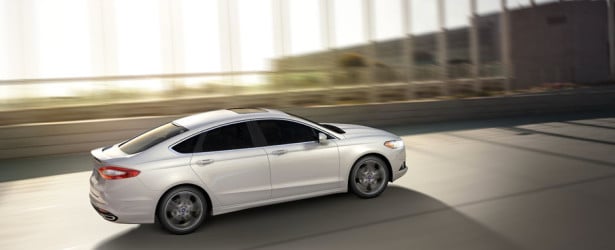 In the world's largest auto market, Ford Motor Co. (NYSE:F) is finding itself in the wake of its competitors, all of which are vying for a block of the colossal opportunity that is China. And it's not a good place to be in, either.
The man charged with catching up to the competition in China is Dave Schoch, who has been working under Ford in the region for 13 years. When Schoch first arrived, China was constructing gargantuan eight-lane freeways between cities. There was, however, one small problem — there were no cars to drive on them.
Fast forward to to 2012, and it seems that eight lanes just aren't enough. The new roadways are choked up with all sorts of cars, ranging from affordable family movers to high-end luxury rides. Under the blossoming Chinese economy, annual wages have doubled, giving millions of people enough money to buy a first vehicle or move up to a luxury brand, and global manufacturers couldn't break into the market fast enough.
"Things turned upside-down," said Schoch, who was named head of Ford's Asia Pacific operations in the fall, CBS noted. "You have to be here and experience it to believe what has happened in the last decade." Some 19 million cars and trucks were bought in China last year, up from the 2 million being sold 12 years prior.
Ford is aiming to take advantage of the huge market opportunity, and double its market share in the country to 6 percent. Analysts are projecting annual sales in China of 30 million by 2020, almost double the U.S. forecast of 17 million, and Schoch is charged with making sure Ford gets a large enough share of that growth.
The company is well on its way. Ford has a $760 million plant under construction in Hangzhou, and is expected to produce 250,000 vehicles per year upon its completion in 2015, when Ford hopes to meet its market share goal. The plant will join a $500 million engine plant in Chongqing, and a $600 million facility that will be completed in 2014, also in Chongqing.
Ford sold a record 407,721 vehicles in China in the first six months of this year, but that figure makes up only a quarter of the vehicles sold by General Motors (NYSE:GM). Additionally, much of Ford's research is still done in Dearborn, Michigan, where the cost of R&D is still relatively high. GM, meanwhile, has already secured a strong research force in China, helping the firm lower costs considerably.
In addition to strengthening its corporate infrastructure in the region, Ford will soon launch the company's Lincoln luxury marque in the Chinese market, which has had a healthy appetite for high-end cars. GM has enjoyed lots of success with its Cadillac brand, and BMW and Audi have also done quite well.
However, working in the company's favor is China's dispute with Japan. Anti-Japanese sentiment has plagued Japanese automakers in the country, and has opened the door for Ford and other automakers to slide in, even if their vehicles come with a higher price tag. For Schoch, it's about telling the Chinese buyers that Ford's vehicles are worth the cost.
"Share and profits are important, but they're a fallout to how our customers perceive Ford," he says. "This is not a sprint in my mind. This is part of a very, very long journey."
Here's how shares of Ford have traded so far in 2013: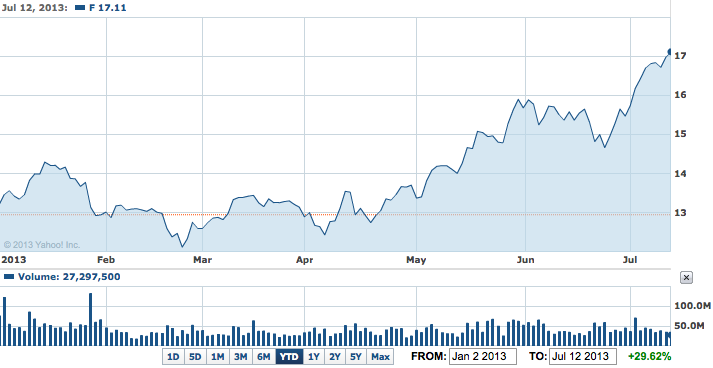 Don't Miss: Toyota Scores a Field Goal: 3 Million Sales of Iconic Prius.