Here's a Setback for U.S. GDP
After data released by the U.S. Commerce Department Friday morning showed that the trade deficit widened unexpectedly in the month of November, economists may lower their projections for gross domestic product growth in the fourth quarter.
"This is not good news for the fourth quarter GDP growth," Rockwell Global Capital analyst Peter Cardillo told Reuters. According to the publication, analysts had expected the trade deficit to fall to $41.3 billion, but instead the gap grew 16 percent and reached $48.7 billion.
Now, due to November's results, the trade deficit is at its highest level since April.
Start 2013 better than ever by saving time and making money with your Limited Time Offer for our highly-acclaimed Stock Picker Newsletter. Get our fresh Feature Stock Pick now!
A 3.8 percent increase in imports, the greatest gain in eight months, drove the deficit expansion. Rising imports will hurt overall U.S. gross domestic product because, when they outweigh exports, cash is drained from the economy as mnAmerican money goes to overseas companies. However, there was one positive indicator for the U.S. economy: imports of consumer goods grew by $4.6 billion, which could signal that consumer demand is strengthening…
Along with the rise in imports, seasonally adjusted exports increased 1 percent for the month of November. But export growth was hampered by the economic problems that continue to plague the European Union, and U.S exports to the region fell 1.3 percent.
While the trade deficit grew overall, the Commerce Department's data showed that the U.S. deficit with China fell 1.7 percent from October.
Other data released by the Department of Labor revealed that import prices fell 0.1 percent in December, indicating that inflation is minimal, which will enable the Federal Reserve to maintain its ultra-easy monetary policy. However, export prices also dropped last month as prices for non-agricultural goods decreased. With the sovereign debt crisis in Europe continuing to affect the global economy, U.S. manufacturers appear to have declining pricing power.
Here's how the Dow, S&P and Nasdaq rounded out the trading week: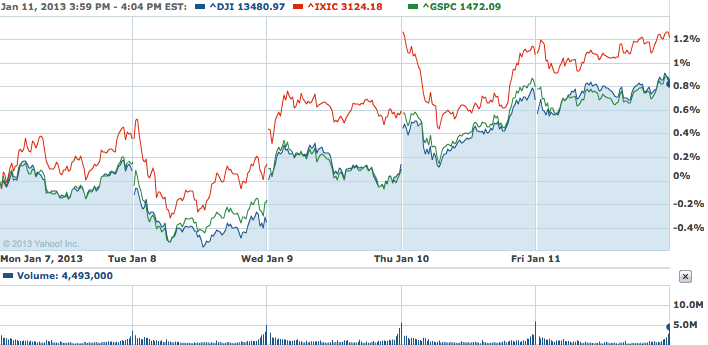 Don't Miss: Post-Fiscal Cliff: Congress Less Favorable Than Cockroaches.