Here's a Snapshot of Major World Indexes
2010 is behind us and 2011 is here. The table at right shows the performance over the past week.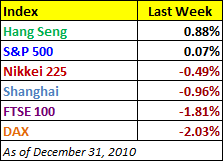 The Hang Seng (NYSE:FXI) was the top performer in the final week of 2010. The S&P 500 (NYSE:SPY) finished fractionally above flat, while the other markets saw some end-of-year selling.
The chart below illustrates the comparative performance of World Markets since March 9, 2009. The start date is arbitrary: The S&P 500 hit a low on March 9th, the Nikkei 225 (NYSE:EWJ) on March 10th, the DAX (NYSE:EWG) on March 6th, the FTSE on March 3rd, the Shanghai Composite on November 4, 2008, and the Hang Seng 4.4 months earlier on October 27, 2008. However, by aligning on the same day, we get a better sense of the present-day synchronous behavior of the markets than if we align the lows.
A Longer Look Back
Here's a similar chart starting from the turn of 21st century — this time with the addition of the Bombay SENSEX (NYSE:INP). This index has been a dramatic outperformer, although it has taken a breather from its high on November 5th.
Doug Short Ph.d is the author of dshort.com.
Improve Your 2011 Financial Health: Join the winning team of stock pickers with Wall St. Cheat Sheet's acclaimed premium newsletter >>