Here's All the Top Mega-Financial Stock Stories of the Week
JPMorgan Chase & Co. (NYSE:JPM): Current price $48.95
The proxy voting and corporate governance advisor Institutional Shareholder Services said in a report that the Wall Street bank should appoint an independent chairman and throw out three directors, boosting pressure on JPMorgan to shake up its corporate governance following the famous $6.2 billion trading loss. ISS said that stockholders should vote to pass a proposal to split the roles of chairman and chief executive officer, both currently held by Jamie Dimon, at the firm's annual meeting May 21.
The bank's asset-management division is likely to buy the 31-story tower at 425 Lexington Ave. in midtown Manhattan, at a price of roughly $650 million, says a knowledgeable source, who added that a contract to purchase the 750,000-square-foot building should be completed soon. The property is one of two Manhattan towers being marketed by the developer Hines, along with 499 Park Ave., which was designed by I.M. Pei.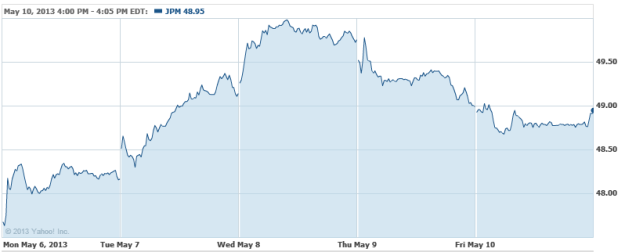 The Travelers Companies (NYSE:TRV): Current price $86.42
Travelers has been chosen by DiversityInc magazine as one of 25 Noteworthy Companies, honoring its diversity and inclusion efforts. The firm was selected from over 893 participating companies based on a yearly survey that measures Human Capital, CEO Commitment, Corporate and Organizational Communications, and Supplier Diversity. Travelers cooperates with several diverse professional organizations, among which include INROADS, The Posse Foundation, the National Black MBA Association and the Association of Latino Professionals in Finance and Accounting. Beyond that, the company has implemented an array of initiatives concentrated upon the development and progression of women and persons of color.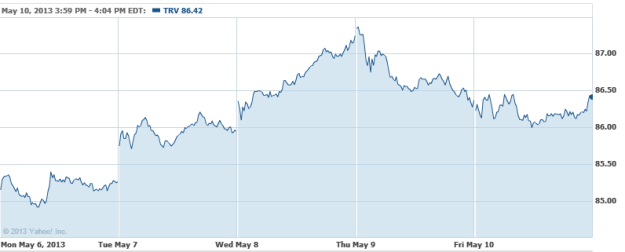 Don't Miss: Is LinkedIn About to Phase Out?
American Express Co. (NYSE:AXP): Closing price $70.01
Subsequent to a modest first-quarter earnings, the company announced a 15-percent raise in its dividend payout last week. The hike is an endeavor to return excess wealth to investors, thus raising their confidence in the stock. Accordingly, AmEx elevated its regular quarterly dividend by 3 cents to 23 cents per share from 20, payable on Aug 9th to the shareholders of record as on July 5. This move represents the second dividend hike since November of 2007.
American Express reports that Chief Financial Officer Daniel T. Henry is retiring later in 2013. Henry will remain in the position while the firm conducts a search for his successor, which might require a couple of months, according to a statement. Chief Executive Kenneth Chenault commented that "We decided that now was the right time to begin the transition. We have agreed on a timetable and arrangement that will ensure a smooth transition, giving us the flexibility to search for a new chief financial officer while continuing to benefit from Dan's leadership."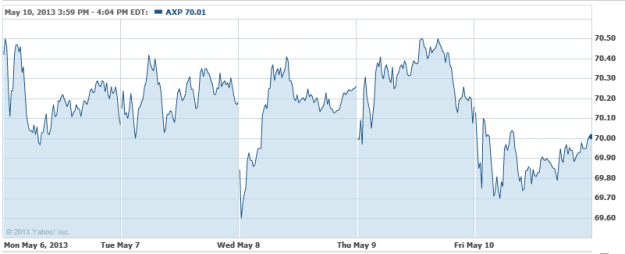 Investing Insights: Where Will Schlumberger Go Next?