Here's All the Top Mega-Financial Stock Stories of the Week
Here's your Cheat Sheet to this week's top financial industry business headlines:
Even before Bank of America's (NYSE:BAC) $4.1 billion purchase of home-loan issuer Countrywide Financial was completed in July 2008, there were signs of trouble. In March, the Federal Bureau of Investigation revealed it was investigating Countrywide for possible fraud relating to home loans and mortgages, such problems that eventually caused the decline of securities backed by subprime mortgages and subsequently the collapse of several major financial institutions.
The institution's practice of steering minority borrowers into higher-interest-rate subprime loans resulted in a $335-million settlement with the Justice Department. Legal troubles stemming from the acquisition of Countrywide, as well as Merrill Lynch, resulted in numerous lawsuits for Bank of America, held back earnings for many quarters, and depressed the company's stock price. In September of 2008 shares traded above $30, but, on Friday, they closed at just $13.66.
Troubles from Countrywide continue to dog Bank of America. Two years have passed since the lender struck a deal to resolve claims over home loans bundled into securities, and Justice Barbara Kapnick will finally begin to consider the $8.5 million settlement with mortgage-bond investors on Monday in the State Supreme Court in Manhattan.
Resolving this case is a key step in Chief Executive Officer Brian Moynihan's efforts to clear up liabilities linked to its purchase of Countrywide, an acquisition that significantly hurt the bank's finances. "The settlement is the centerpiece of the strategy to resolving Countrywide's mortgage liability," Isaac Gradman, a mortgage-finance litigator at Perry, Johnson, Anderson, Miller & Moskowitz, told Bloomberg. "It's imperative they get this approved or there's going to be a lot more pain down the road."
Still, there is a major hurdle that stands in the way of resolution. The deal has the backing of an investor group that includes BlackRock (NYSE:BLK), but it must overcome the opposition of investors, led by American International Group (NYSE:AIG), that claim Bank of America is not paying enough. That argument is why the agreement has gone through two years of litigation since it was filed in court in June 2011. The hearing may be postponed once again because an attorney for AIG said in a May 31 letter to the court that the opposition did not have all the necessary evidence to present their case.
AIG and other opponents have pressed Kapnick in court documents to reject the settlement alleging that it is a "pennies-on-the-dollar bargain" for Bank of America because the losses that resulted from the securitization of the loans in question are expected to exceed $100 billion. They also claim that Bank of New York Mellon (NYSE:BK), the trustee for approximately 530 trusts that held the securities, violated its responsibilities to investors by putting its own interests, and those of its partner, Bank of America, before the interests of investors.
If the settlement is rejected, Bank of America will have to negotiate a more expensive agreement with the investor group or settle with individual bondholders, a method that could "drag out the process for years," Morgan Stanley analyst Betsy Graseck wrote in an April 23 research note seen by Bloomberg. But if it is accepted, one of the biggest uncertainties tied to the bank's takeover of Countrywide will be resolved. Already, the company has agreed to an $11.7 billion settlement with the mortgage-finance institution Fannie Mae in January and ended disputes with bond insurers, including MBIA (NYSE:MBI), which settled for $1.7 billion in May. All that remains are claims from private investors and the 2011 accord deals that were made with most of them, according to CreditSights senior banking analyst Pri de Silva. In total, Moynihan has spent more than $45 billion to clean up the inherited mortgage mess, which stemmed from $424 billion worth of troubled Countrywide home loans.
In a March 27 interview on PBS television's "Charlie Rose" program, Moynihan called the deal a major milestone. ''If you think about the pie, or the piece being this big, we've been chopping it down to less and less,'' he said. ''There's a couple pieces of mortgage litigation left, but the lion's share of it has gone through" the bank's earnings.
Follow Meghan on Twitter @MFoley_WSCS
Don't Miss: Surprise! Bank CEO Pay Back, Bigger Than Ever.
HSBC Holdings (NYSE:HBC): Current price $54.98
New York Attorney General Eric Schneiderman claims that HSBC violated New York foreclosure law and placed homeowners at a greater risk of losing their homes, and said Tuesday that he is suing the bank. A state investigation revealed that HSBC has left homeowners in foreclosure by not meeting requirements for giving them a chance to negotiate loan modifications, said Schneiderman's office. This lawsuit is brought as state attorneys general across the United States have targeted banks over foreclosure practices, in 2012 coming to a $25-billion settlement with five mortgage servicers, among which included Bank of America Corp. and Wells Fargo & Co. However, HSBC was not part of that settlement.
Are these stocks a buy or sell? Let us help you decide. Check out our Stock Picker Newsletter now.

American Realty Capital Properties (NASDAQ: ARCP): Current price $14.75
On Tuesday, the firm said that it will divest around 29.4 million shares of common stock at a price of $15.47 per share, for aggregate proceeds of $455 million, and roughly 28.4 million shares of 5.81 percent convertible preferred stock, with a total liquidation preference of $445 million, in separate private placement transactions. Net proceeds of about $898 million will be used to fully fund working capital requirements and recently reported strategic purchases, including a $807 million property portfolio being bought from GE Capital and the $2.2 billion acquisition of CapLease.
Are these stocks a buy or sell? Let us help you decide. Check out our Stock Picker Newsletter now.

American International Group (NYSE:AIG): Current price $45.26
AIG,  Prudential Financial (NYSE:PRU), and a division of General Electric Co. were called out by United States regulators as potential risks to the financial system, closer to putting the firms under more robust government scrutiny. In statements issued Monday, AIG and Prudential, subsequent to a meeting of the Financial Stability Oversight Council, said they were advised of the proposed designations. GE Capital Spokesman Russell Wilkerson reported in an e-mail that his firm also received a notice. AIG, Prudential, and GE Capital had previously reported that they were in the final stage of review.
Are these stocks a buy or sell? Let us help you decide. Check out our Stock Picker Newsletter now.

Newcastle Investment Corp. (NYSE:NCT): Current price $5.55
Newcastle announced Tuesday that it has finalized the sale of the entirety of the assets in Newcastle CDO IV. The corporation sold $153 million face amount of collateral at an average price of 95 percent of par, or $145 million. The divestiture will result in $77 million of third-party debt being paid off at par and the termination of the trust. Newcastle directly holds roughly 50 percent of CDO IVs capital structure. This transaction will generate around $68 million of proceeds to Newcastle, which will recover par on $60 million of CDO debt which had been previously repurchased at an average price of 52 cents, and $8 million of proceeds to its subordinated interests. The firm expects the final distribution of funds from CDO IV to occur on or around June 24.
Are these stocks a buy or sell? Let us help you decide. Check out our Stock Picker Newsletter now.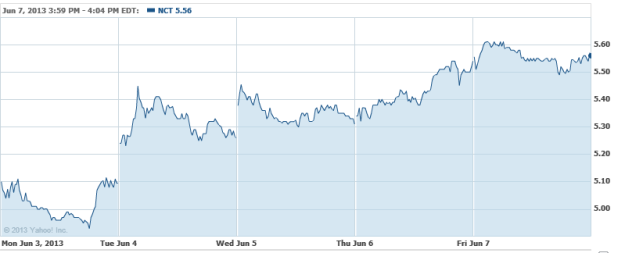 Don't Miss: Here's Why Investor Panic Was Halted.
Wells Fargo & Co. (NYSE:WFC): Current price $41.26
A top Wells Fargo executive said Wednesday that his firm wants to step up its bond purchases, in order to benefit from higher potential returns from investments while interest rates in the United States head upwards. Chief Financial Officer Tim Sloan explained at Deutsche Bank's Global Financial Services Investor Conference that "the current back-up in rate, we think, is attractive and will allow us to invest at a slightly faster rate than how we were investing maybe 30 days ago and 60 days ago." Wells currently is sitting on excess funds, due to depositors bringing in money faster than the bank can lend it out, thus it has cash  that it can invest.
The bank will shell out $42 million so as to settle allegations that it did not maintain foreclosed homes in low-income, minority neighborhoods, while placing more effort into the upkeep of homes in more upscale areas. Wells denied the allegations made in 2012 by the National Fair Housing Alliance in a complaint with the Department of Housing and Urban Development, but it agreed to resolve the case to diffuse the dispute quickly, according to company spokesman Tom Goyda in an e-mail on Thursday. Goyda commented that "Cooperation with organizations who share our commitment to helping communities with distressed real estate markets is a much better outcome than a long and contentious dispute." Wells Fargo will pay $39 million to housing programs in 45 communities, and a further $3 million towards legal fees, fees, education, and outreach.
Are these stocks a buy or sell? Let us help you decide. Check out our Stock Picker Newsletter now.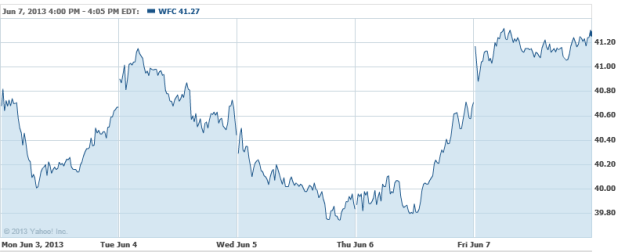 U.S. Bancorp (NYSE:USB): Current price $35.77
The top United States derivatives regulator CFTC, on Wednesday has sued a division of U.S. Bancorp, saying that it unlawfully used customer funds from Peregrine Financial Group, which was the futures brokerage that collapsed last July. The  complaint claims that U.S. Bank N.A. used funds of Peregrine customers as security on loans and improperly held the funds in an account that it treated as a Peregrine commercial checking account. The former Peregrine Chief Executive Russell Wasendorf Sr. began serving a 50-year sentence in February for stealing $215 million from customers.
Are these stocks a buy or sell? Let us help you decide. Check out our Stock Picker Newsletter now.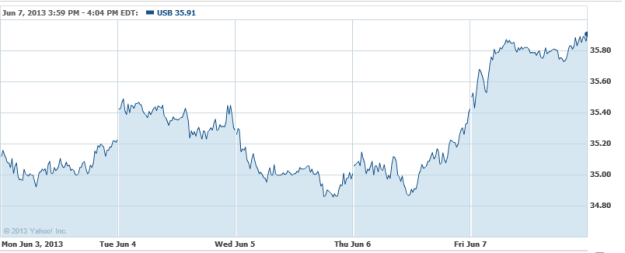 JPMorgan Chase & Co. (NYSE:JPM): Current price $54.25
The Wall Street giant has suffered big losses for its involvement in helping to finance the sewer system in Jefferson County, Alabama. A deal was announced late Tuesday, in which a part will cause JPMorgan to lose roughly $840 million of the $1.2-billion debt of sewer debt that it owns. The firm was the largest creditor in the county's bankruptcy case, and thus is taking the biggest hit in the deal. For several years, JPMorgan officials has expected a loss on the sewer debt. Prior to Jefferson County's bankruptcy filing in November of 2011, JPMorgan took the lead in attempting to negotiate a resolution with the county and other creditors.
Speaking in a Thursday panel discussion at the Fortune Global Forum in Chengdu, China, Chief Executive Jamie Dimon said that he thinks world markets will see increased volatility while central banks raise interest rates back to normal levels. Dimon commented, "We should all hope for a normalization of interest rates — that's a good thing. As we go back to normal, it's going to be scary, and it's going to be kind of volatile." Daily fluctuations have widened during the past month perhaps due to speculation that the Fed might be thinking of easing off its monetary stimulation program, along with reports on Chinese and American manufacturing trailing estimates. Dimon remarked that "I am going to be looking at every word the Fed says."
Are these stocks a buy or sell? Let us help you decide. Check out our Stock Picker Newsletter now.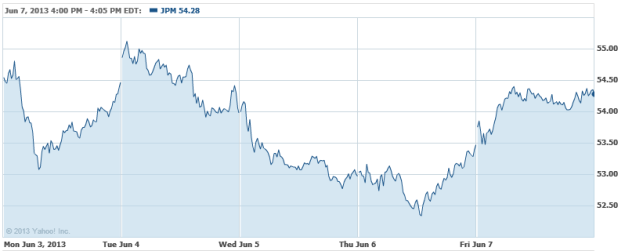 Deutsche Bank (NYSE:DB): Current price $47.75
DB Co-Chief Executive Anshu Jain says that he is cautiously optimistic concerning the health of the world economy, but he worries about what he terms as regulatory "balkanization," as he told CNBC's Closing Bell on Tuesday, "At some point the (Fed's) bond-buying program will come to an end and when it does it will have an impact on the overall term structure of interest rates." Jain noted that the normalization of bond yields over the past month has been constructive, adding that while markets fret about the Federal Reserve and possible ramifications as it ends quantitative easing, investors are fairly sanguine in regards to the world economy. Beyond that, Deutsche Bank anticipates higher growth for the United States economy than does many of its peers, and forecasts an end to the Fed's bond-buying expansionary program as soon as the end of 2013, or at the latest during the first quarter of 2014.
Are these stocks a buy or sell? Let us help you decide. Check out our Stock Picker Newsletter now.

Don't Miss: IMF's Lagarde: Budget Cuts Are Slowing Down America.
Genworth Financial (NYSE:GNW): Current price $10.92
On Thursday, Genworth announced an expense reduction plan whiles it continues to endeavor to improve the operating performance of its businesses. This plan will cut around 400 positions, including 150 open positions that will not be filled, and will shrink related information tech and program spending. When the move is fully implemented, the firm expects to realize roughly $80 to $90 million in yearly pre-tax expense savings primarily related to these actions. A pre-tax non-operating charge of between $15 to $20 million will be posted in the second quarter  reflecting severance, outplacement and other associated costs.
Are these stocks a buy or sell? Let us help you decide. Check out our Stock Picker Newsletter now.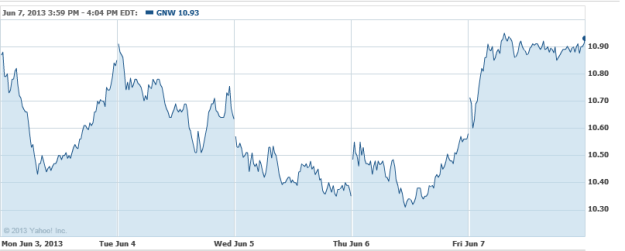 Credit Suisse Group (NYSE:CS): Current price $29.19
Knowledgeable sources report that Credit Suisse is expected to have a leading role in the anticipated IPO of Alibaba Group, which would be a coveted role that could bring massive fees for the bank. The Alibaba offering may occur as soon as the end this year, and is likely to compete with last year's $16 billion IPO by Facebook in magnitude. Thus far, Alibaba Group Holding has not officially announced that it will hold an IPO, but the sources say that it has during the past few weeks accelerated its meetings with investment banks.
Are these stocks a buy or sell? Let us help you decide. Check out our Stock Picker Newsletter now.

Don't Miss: Emerging Markets Are Dreading Bernanke's Next Move.