Here's Evidence of a Spring Economic Slowdown
Another sign that a spring economic slowdown has begun was given to stock market investors and analysts Monday morning. The Federal Reserve's Empire State Manufacturing Survey — a monthly study based on the responses of roughly 175 manufacturing executives in New York State — showed that business activity is slowing.
The Empire State manufacturing index was largely positive in March, giving a reading of 9.24, well above the level of zero that separates expansion from contraction on the scale. That reading was just below February's 10.04, but significantly above the consensus reading of 7.8 set for April by analysts polled by MarketWatch.
This month, the index continued its drop. With the new orders and shipment components of the Fed's index dropping — general business conditions fell six points to 3.1 — below analysts expectations. At this level, the index showed that conditions are still positive, but it represented the slowest reading since January.
While the new orders index dropped 6 points to 2.2 and shipments fell to 0.8, the indexes for both prices paid and prices received did inch higher. As the Federal Reserve stated in the report, this increase is a sign that the pace of input and selling prices had picked up over the month. In addition, the employment indexes rose, which showed a modest increase in both employment levels and hours worked…
Most importantly, the indexes for the six-month outlook pointed to a small degree of optimism about future conditions, and the positive readings from the employment indexes and the price indexes were also evidence that business activity is on a positive trajectory
In a series of supplementary questions, respondents were asked how much difficulty they had finding workers that were proficient in mathematical, computer, interpersonal, and other workplace skills. As in earlier surveys, said the Fed, participants reported that they had the most difficulties finding workers with advanced computer skills as well as employees who were punctual and reliable.
Both stock market investors and analysts take note of the Empire State Manufacturing Survey because it offers the first clue on the nation's manufacturing sector; it is released in advance of the Philadelphia Federal Reserve Bank's business outlooks survey, the National Association of Purchasing Management's Chicago index, and the Institute of Supply Management's manufacturing index. The Federal Reserve also closely examines this report because when inflation signals appear, the central bank policymakers can reset the direction of interest rates, making both the bond and equity markets sensitive to this report.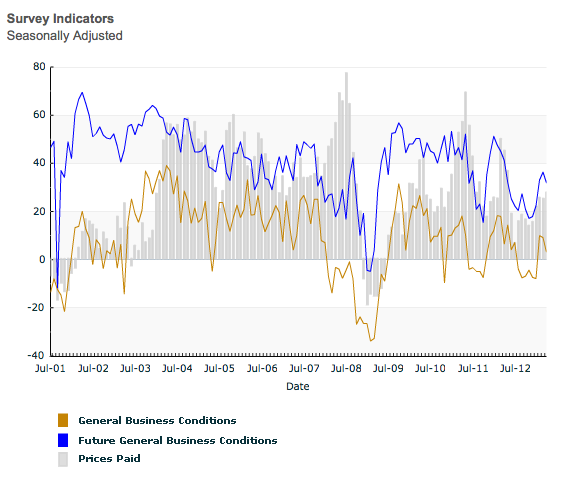 Don't Miss: Facebook Is Teaming Up With the Government to Protect Your Privacy.