Here's How 5 Top Big Oil & Gas Stocks are Reacting to Gas Prices
Gasoline prices continued their upward move in the U.S., rising 2 percent on average across all grades last week, according to data from the U.S. Energy Information Administration. At $3.68 per gallon, the average price last week was 49 cents short of the record high price reached in July 2008.
Regular gasoline climbed 2 percent from last week to $3.61 per gallon, Midrange rose 2.7 percent to $3.76, and Premium went up 1.8 percent to $3.91. According to GasBuddy.com, gas cost the most in Hawaii and California, where the average came in at $4.1 per gallon. Wyoming had the cheapest gasoline last week at $3.05 per gallon.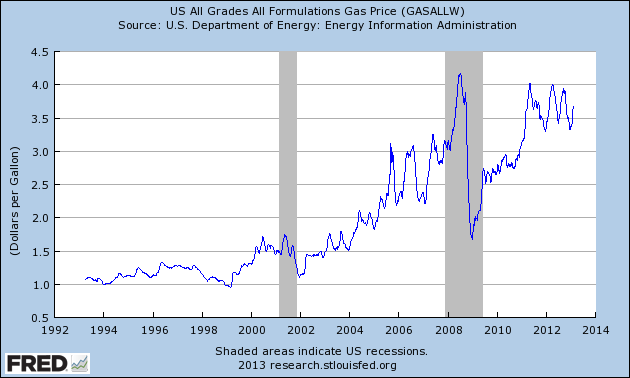 The average U.S. household already spends nearly…
$3,000 a year on gasoline, according to a recent government estimate, and could possibly spend more this year than ever before.
The Consumer Prices Index annual inflation grew by 2.7 percent in January 2013, unchanged for the fourth month in a row. Personal consumption expenditures increased $22.6 billion, or 0.2 percent.
Blame for the rising gas prices was easy to find. On Tuesday, U.S. crude oil traded above $97 a barrel, up from $85 a barrel in mid-December. Brent crude was near a five-month high above $118, having risen from near $108 a barrel two months ago.
However, relief may be around the corner, as U.S. production is expected to grow at the fastest pace on record this year, according to the U.S. Energy Information Administration. Gasoline prices are expected to rise over the next few months, but will peak at $3.73 per gallon in May 2013, the EIA said on Tuesday.
Here's how the Big Oil & Gas stocks have reacted to the news…
Exxon Mobil (NYSE:XOM): Current Price $88.32

Chevron (NYSE:CVX): Current Price $115.87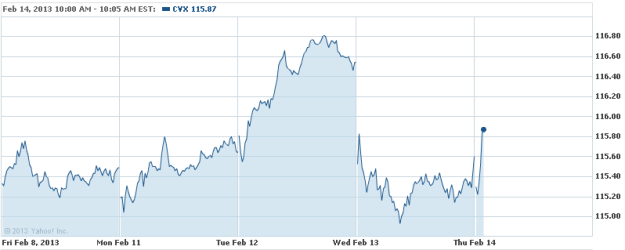 BP (NYSE:BP): Current Price $41.91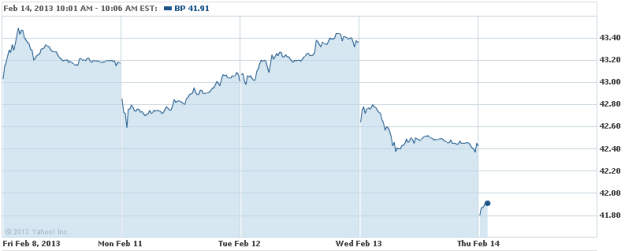 ConocoPhillips (NYSE:COP): Current Price $57.68

Total SA (NYSE:TOT): Current Price $50.55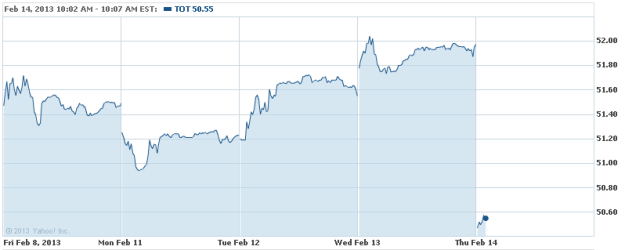 Don't Miss: Chevy: Now You Can Use Siri In Your Car.