Here's How Automakers Are Investing In America
America's largest car maker may be expecting a modest 2013, but what it lacks in sales growth it will make up for with investment. At a speech Wednesday night, Mark Reuss, North American President for General Motors (NYSE:GM), announced that the company will be investing an additional $1.5 billion in North American factories this year.
The figure stacks on top of some $10.2 billion already spent by the company since July 2009, and is part of GM's long-term strategy to re-establish both its market position and its brand image after its near collapse. GM is still America's largest manufacturer and controlled 18.1 percent of the market in 2012, but that share dropped from 19.6 percent in 2011 at the hands of foreign competitors such as Toyota (NYSE:TM) and Honda (NYSE:HMC) as they recovered from the March 2011 earthquake, which severely interrupted their supply chain and dragged on production.
Start 2013 better than ever by saving time and making money with your Limited Time Offer for our highly-acclaimed Stock Picker Newsletter. Click here for our fresh Feature Stock Pick now!
Ford's (NYSE:F) market share also declined in 2012 — from 16.8 percent in 2011 to 15.7 percent in 2012 — and automakers seem to be unanimously turning to the same strategy to drum up sales…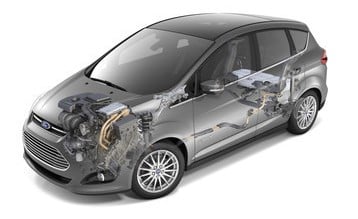 The strategy: build it in America. Not only do Americans want to buy American-made vehicles, but increasing the U.S. manufacturing footprint is good for the economy. And the auto industry, which is highly sensitive to macro-economic conditions, is just as interested in broad economic growth as everybody else.
In this spirit, Ford recently announced that it will be hiring 2,200 white-collar workers in the United States, adding to the over 8,000 salaried and hourly positions it created in 2012. But Toyota and Honda also have initiatives to increase their manufacturing base in the United States.
Toyota produced 1.78 million vehicles in North America in 2012, a 41 percent annual increase. The Japanese company also invested $1.5 billion in its U.S. operations last year, and expects to create 3,500 new manufacturing jobs. Toyota has built over 25 million vehicles in North America so far, and is beginning to export U.S.-made cars.
Even Honda, which exported its one-millionth American-made car recently, is determined to grow its presence in the United States. Notably, it will be building its 2014 Accord Hybrid at its Marysville, Ohio, facility. Honda has invested over $800 million in Ohio over the past three years.
Don't Miss: What Does GM's 2013 Look Like?