Here's How Better Fuel Economy is Helping Boost the Economy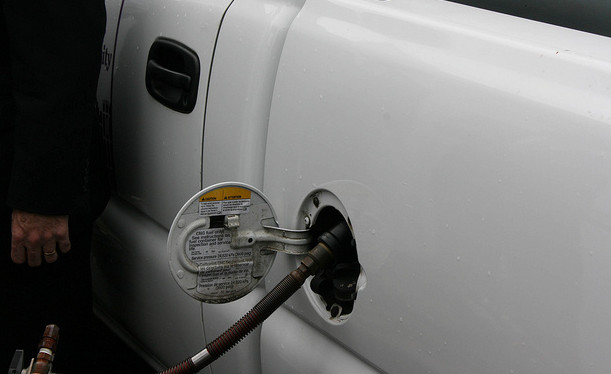 When summer rolls around, the U.S. Energy Information Administration shifts into high gear. The reason is the American driving season, which runs from Memorial Day to the first week of September and calls a huge amount of attention to gasoline prices. To start, the average price per gallon of regular gasoline in the week ended July 1 was up $0.14 on the year at $3.50.
For some context, the EIA calculated that Americans spent 4 percent of their pre-tax income on gasoline in 2012, or $2,912 on average. At this level, Americans are spending more on gasoline now than at any time in the past 30 years. This is thanks in large part to a 34 percent jump in retail gasoline prices in 2011, when the average price for a gallon of regular-grade gasoline increased from $2.76 to $3.71.
Prices edged down slightly in 2012 to an average of $3.69 per gallon, and are expected to decline again in 2013 to $3.69 per gallon. Despite the unfavorable year-over-year increase at the end of June, gasoline prices are down about 1 percent this year to date compared to last.
The EIA has kept close track of the slow decline in gas prices recently. Slightly lower oil prices this year compared to last have helped drive overall costs lower, while increased fuel efficiency has helped reduce consumption. Crude oil is by far the largest cost component in a gallon of retail gasoline.
The EIA projects that Brent crude oil prices will fall from an average of $112 per barrel in 2012 to $108 in 2013 and $101 in 2014. Meanwhile, the discount for WTI crude to Brent and other world crude oil is expected to narrow through 2013. In the short term, the gap between WTI and Brent has narrowed significantly in light of the crisis in Egypt.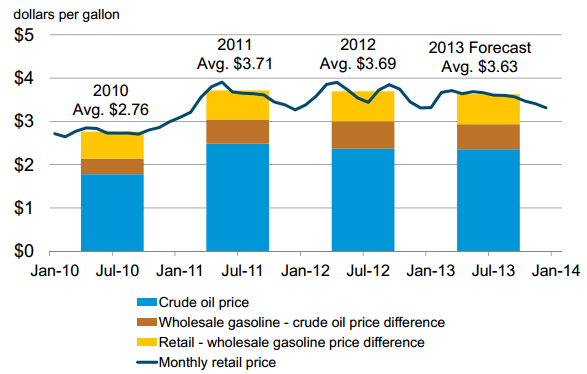 As the EIA pointed out in its July 3 weekly petroleum update, location has a huge impact on gasoline prices. In 2012, the spread between the average price of gasoline in the Gulf Coast and the West Coast was $0.53 per gallon. In 2013, that spread is expected to decrease to $0.42 per gallon, mostly thanks to a reduction in average West Coast prices, which have been volatile this year because of refinery maintenance.
In its Wednesday report, the EIA said, "While the story of U.S. gasoline markets during the second half of 2013 cannot yet be written, experience allows us to be certain about two things — first, that there are inevitably surprises ahead of us; and second, that 'location, location, location' will continue to drive important differences across regional markets.
All told, the situation could be worse. Four percent of pre-tax income may seem like a lot — and to most Americans, $3,000 a year is a couple of mortgage payments or even a year's worth of retirement savings — but it could be higher. Research conducted by the University of Michigan shows that much of the cost savings associated with gasoline expenditures over the past five years has not come from declining prices but from reduced consumption.
Average fuel economy has increased 40 percent over the past 40 or so years, and nearly half of that gain has occurred in the past five years. Without the increases in fuel economy of the past half-decade, Americans could be spending much more on gasoline — as much as 7 percent of pre-tax income, in fact.
Don't Miss: Mark Carney Set to Shake Up Bank of England.