Here's How Confusion May Threaten the Success of Obamacare
"Many Americans are unsure if the health care law is still in effect," is an often-repeated headline. More than three years have passed since the Affordable Care Act was signed into law and less than one month remains before the key provision of the reform — the online insurance marketplaces or exchanges, open for enrollment — but research shows that the Americans are almost as confused about the reform as they were when it was drafted.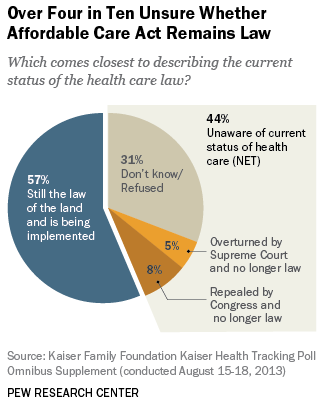 Data compiled by the Kaiser Family Foundation in its August 2013 Health Tracking Poll showed that roughly four in ten Americans — 44 percent — think either the Affordable Care Act has been repealed by Congress or overturned by the Supreme Court, or say they do not know whether it remains law or not, which was the answer of 31 percent of respondents. For context, the Republican-controlled House of Representatives has launched approximately 40 attempts to repeal or defund all or parts of the law, while the Supreme Court upheld the law by a 5 to 4 decision in June of 2012. Just 22 percent of adults ages 18 to 64 said they had heard "a lot" or "some" about the insurance exchanges. Comparatively, 45 percent said they knew "nothing at all about them."
With such a large percentage of Americans unsure about the legal status of the reform, it follows that slightly more than half of the American public, 51 percent, say they do not have enough information about the law — known popularly as Obamacare — to understand how it will impact them and their family. This percentage has remained largely unchanged since 2010.
In particular, those individuals who feel they do not have enough information is particularly high among Hispanics, with 64 percent; the uninsured, with 62 percent; young adults ages 18 to 25, with 62 percent; and those with household incomes of less than $40,000 per year, with 60 percent. To experts on the health care reform, this lack of understanding is seen as a major problem for the success of Obamacare's main objective: bringing affordable health care to the currently uninsured.
"If you continue to see that very low level of awareness even as you get toward October, that's a sign that we may not be getting the enrollment, and the exchanges are going to be at a bit of risk from that," Sara Collins, the co-author of a recent Commonwealth Fund report on Obamacare understanding, told CNBC. "You want a broad, healthy diverse risk pool in the marketplaces. It's really important that young, healthy people come into the market," said Collins, noting the danger of premium hikes from having a disproportionate number of older, sicker people in insurance plans.
The Commonwealth Fund released its own study on the American population's understanding of the Affordable Care Act. It discovered that 73 percent of adults between the ages of 19 and 29 were unaware of the marketplaces, a statistic that is of particular worry for government officials.
The Obama administration has estimated that approximately 7 million people will sign up for coverage via the exchanges in 2014 and between 2.6 million and 2.7 million of those enrollees need to be young, cheap-to-insure, Americans for the system to work. Their insurance premiums will cover the big bills for the relatively small number of sick people that are expected to sign up relatively quickly via the exchanges.
Many have criticized president Barack Obama in the political sphere for not devoting enough time to explaining and discussing the health care reform he championed since it was passed into law in March 2010. Yet, the Obama administration has made a concerted effort in the past month to talk about Obamacare whenever possible.
The president appeared on "The Tonight Show with Jay Leno" on August 6, held a videoconference with state health officials from the Situation Room on August 21, tweeted with Katy Perry, hosted a private reception at the White House for a group of important figures in the African American community, and interviewed with radio hosts Tom Joyner and Sybil Wilkes as part of the capitol's celebration of the 50th anniversary of Martin Luther King Jr.'s historic "I Have a Dream" speech.
Here's how the major U.S. indexes traded on Friday:

Follow Meghan on Twitter @MFoley_WSCS