Here's How Ford Will Dethrone Toyota
The global automotive industry is facing two daunting realities simultaneously. On one hand, world-wide demand has shrunk — as much as 20 percent in Europe — and car makers have been forced to close plants, lay off workers, and scale back production in the face of billions of dollars in losses. On the other hand, consumers and regulators are pushing for a revolution in energy and fuel economy, pressuring manufacturers to invest deeply in research and development for hybrid and electric vehicles.
Taken individually, each task would force the world's top car companies to up their game. Together, the market has beat automakers into a corner where only the most competitive and innovative strategies succeed.
Catalysts are critical to discovering winning stocks. Check out our newest CHEAT SHEET stock picks now.
The production launch of Ford's (NYSE:F) C-Max Energi plug-in hybrid vehicle illustrates one of these strategies. The company's assembly plant in Michigan is the only factory in the world that builds gas, hybrid, and plug-in vehicles on the same production line. The facility can build vehicles with five different powertrains on the same line.
"Michigan Assembly Plant is setting a new global standard for flexible manufacturing, and is a central part of Ford's important milestone, sweeping Toyota across the board for fuel economy leadership," said Ford VP of North American Manufacturing Jim Tetreault.
Ford has launched it's C-Max line like a missile at Toyota's (NYSE:TM) family of Prius vehicles. Toyota has taken the top spot for fuel efficiency and hybrid sales for a long time, and Ford's current strategy has been pretty clear: dethrone the king.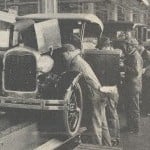 While Ford's C-Max lineup is impressive in and of itself, the manufacturing and production techniques Ford has brought into play are just as critical to the strategy's success. A huge reason why Toyota has been able to rebound from disaster and beat out General Motors (NYSE:GM) to claim the title of largest manufacturer in the world is its well-studied lean manufacturing process.
Maximizing for efficiency at production lines has been a central issue for car makers from their inception. Toyota's calculated approach to efficiency and waste reduction changed the game, and now Ford's flexible manufacturing process promises to do the same. From the production launch press release, here are a few of Ford's key workstation developments:
"In the chassis, workers at one station have plastic fuel tanks on one side of the line and electric chargers on the other. Depending on the build sequence, they install either a charger in a Focus BEV, or a fuel tank in a C-Max or gasoline-powered Focus."
"Several stops further down the chassis line, other workers attach either battery packs or exhaust systems, depending on the vehicle."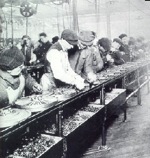 "In the trim area, multiple stations have been reconfigured so that a team of workers has a longer time window to do the complicated functions of installing a high-voltage wire and battery into C-Max or Focus BEV, while being given quicker tasks to perform when gasoline-power Focus cars come down the line."
"More than 80 percent of the tooling in the plant's body shop can be programmed to weld a variety of body styles."
Like Toyota, Ford recognizes the importance of smart production. The markets are more competitive than ever, and if Ford wants to become the king slayer, lean logistics will sharpen its cutting edge.
Don't Miss: These 3 Marijuana Stocks Get High after Election Day.