Here's How Fuel Efficiency Affects U.S Gasoline Prices
Average summer gasoline prices are expected to be slightly lower this year than in 2012, according the U.S. Department of Energy's Energy Information Administration.
Because crude oil prices — which account for two-thirds of the price drivers pay for gasoline at the pump — are expected to drop, the retail price for regular gasoline has been forecast to fall to an average of $3.63 per gallon, a figure slightly below average prices over the past two summers. Lowered gasoline consumption, as well as higher gasoline inventory levels, will also contribute to the lower prices.
During the summer driving season — a period of six months that extends from April to September — the average price of Brent crude oil, a benchmark price closely related to the U.S. wholesale price of gasoline, has been estimated to average $107.50 per barrel this summer, a decrease of about $1.50 from last summer.
However, gasoline prices in the United States vary by region; in the West Coast, pump prices are expected to be as much as 26 cents per gallon higher than the national average, while the Gulf Coast could experience prices that are 16 cents per gallon lower than the national average because of the region's proximity to refineries…
As inventory levels often dictate pricing, based on simple supply and demand economics, the current status of gasoline inventories are a key metric in the EIA's analysis of summer prices. As the report noted, U.S. gasoline inventories began the 2013 summer driving season at 220 million barrels, a level that was 1 million barrels higher than the previous year recorded but approximately the same when compared to the five-year average. Last summer, withdrawals of gasoline from inventories were a major source of supply to help meet high fuel demands, but this summer, the gasoline stock draw is only expected to be about half of last year's level, which averaged 98,000 barrels per day.
The steady draw-down of gasoline inventories is not expected to be repeated this year. Rather, analysts have forecast that inventories will stabilize by the middle of summer and end the driving season at approximately 210 million barrels — a figure about 8.8 million barrels higher than last summer and 1.7 million barrels above the five-year average.
Part of the stabilizing gas inventories can be attributed to a lowered demand for gasoline. As the EIA reported, gasoline consumption will decrease by an estimated 20,000 barrels per day, because the 0.3 percent rise in highway travel will be offset significantly by improvements in vehicle fuel efficiency.
The EIA also noted that gasoline production in the U.S. may increase by 20,000 barrels per day this summer, while net imports of gasoline are expected to be 1.1 percent lower than in 2012.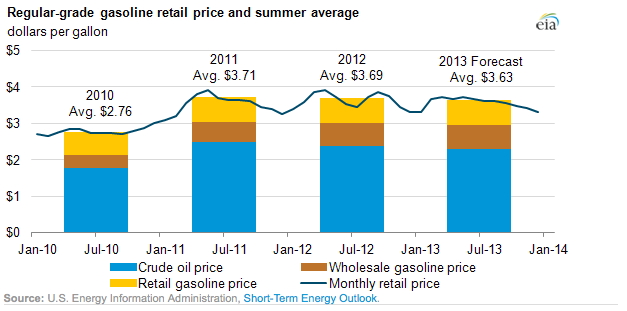 Don't Miss: Is Slowing Economic Growth Curbing Demand for Oil?