Here's How Huge the Business of College Football Is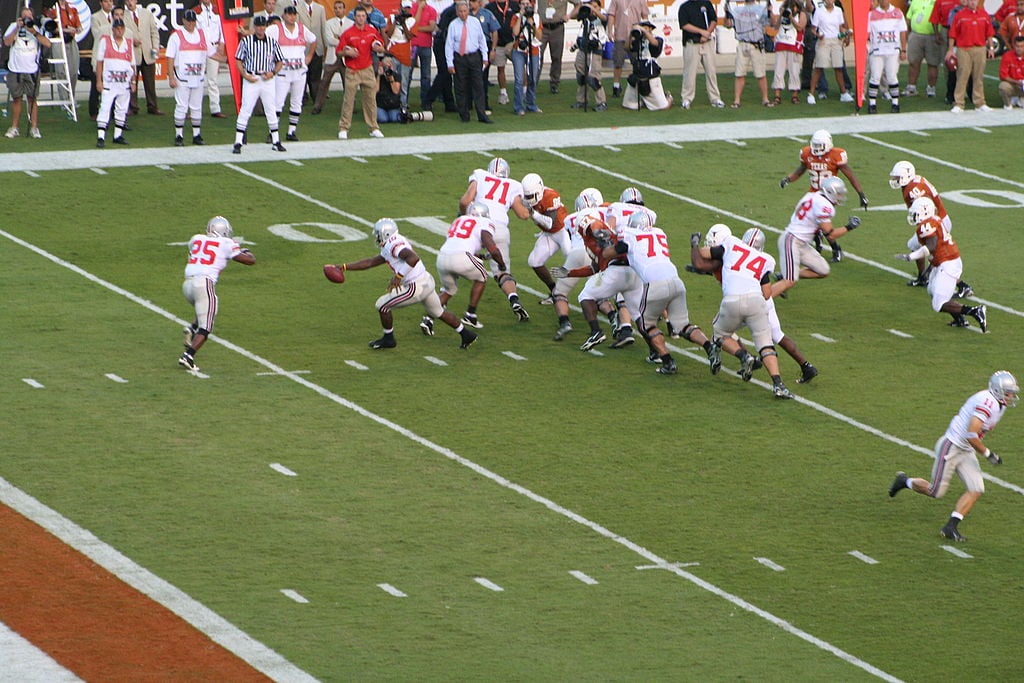 With a quarterbacks being investigated for his memorabilia take and TV executives discussing weekly contests as "inventory," it's safe to say college football is one of the biggest sports businesses around. Tying together fans' love of the sport with their allegiance to an alma mater is working wonders for dominant players like ESPN (NYSE:DIS) and Nike (NYSE:NKE). What's surprising is how much the biggest players are influencing the sport.
Anheuser Busch Inbev's (NYSE:BUD) Bud Light beer is the perfect example. Not only is the flagship light beer the drink of choice of so many fans (courtesy of an overwhelming promotions department), Budweiser has decided advertising is not enough. The company has launched "Bud Light Football Arizona," a website that will serve as the hub for the state's pro and college football fans, and is presenting "Inside College Football" on CBS (NYSE:CBS) Sports on prime time through the fall.
Nike has an even bigger stake in the world of college football. From multi-million dollar deals for uniform creation to mammoth apparel contracts with universities, Portland Business Journal considered the efforts of Big Swoosh as empire-building on campuses everywhere. Of course, none of these companies has been able to influence the game quite like the Worldwide Leader in Sports.
According to a New York Times report, ESPN has taken control not only of the programming and presentation — the traditional domain of  media companies — but the sports giant has begun hosting college football coaches for an annual powwow and even drawing up the schedule in some cases. The most impressive coup, the Times story notes, was initiating a kickoff game between national champ Alabama and Virginia Tech.
That level of reach is unprecedented in professional sports. ESPN's influence on Major League Baseball is evident  in its famed Sunday Night Baseball contests, which have become a signature of the sport. Fox's (NYSE:FOXA) Saturday MLB productions are comparable in scope, but the entire schedule rarely (if ever) revolved around it.
ESPN has its own college sports network to back up its highly profitable ESPN and ESPN2 stations, yet its biggest achievement may be in the company's ability to dictate who plays whom, and when. Additionally, the company has what Sports Illustrated called "one of the best sports studio shows ever created" in College GameDay, and ESPN has become an indomitable force in the business. As upstart Fox Sports 1 tries to get at the worldwide leader, there is a huge mountain to climb in college football.