Here's How Investors Are Making Money Off Obamacare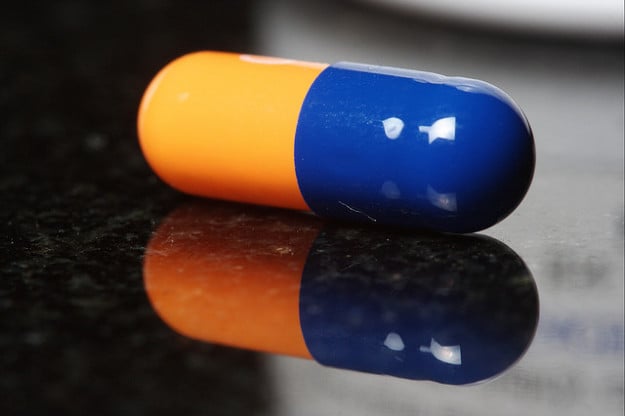 Because the Affordable Care Act was designed as build-on to the existing system, filling in the gaps left by Medicare and Medicaid to expand health care coverage to America's millions of uninsured, the reform is "a complex and somewhat ugly patch on a complex and somewhat ugly system," according to Princeton University's Uwe Reinhardt. But there will be several moments in the next months and years when the Affordable Care Act will show itself to have been either a successful reform of the American health care system or merely a "complex and ugly patch."
At the one month mark — November 1 — the Department of Health and Human Services must have resolved the technical glitches that are preventing potential enrollees from purchasing policies. When the enrollment period ends in six months, at the end of March, the checkpoint will be how many families and individuals purchased policies. The target highlighted by the White House is 7 million, a relatively modest number when considering that 48 million people were without coverage in 2012. Even more important is how many of those enrollees were young, cheap-to-insurance individuals — a demographic that needs to pay into the system in order to balance out sicker enrollees. A year from now, the question will be how expensive is the so-called affordable care and in several years, it will be whether health care spending in the United States has slowed or increased.
Even though many discussions regarding Obamacare deal with its success in terms of its political ramifications or on whether the health care reform's cornerstone provision, the individual insurance exchanges, significantly expand health care coverage in the United States, the enrollment numbers and the affordability of health insurance matter immensely to investors. The Congressional Budget Office estimated that 7 million Americans will enroll in the online exchanges created by the Affordable Care Act's individual insurance mandate.
But investors surveyed by Citigroup in late September had a much lower forecast: 4 million. The reason for that lower estimate was not lack of awareness of the law's requirement that all Americans who can afford to buy healthcare insurance do so, or confusion about how to sign up for coverage, or even distaste for the mandate. Rather, the survey shows that investors were concerned that technical glitches will present obstacles to enrollment. And that is the ultimate test of Obamacare success: enrollment numbers.
For months, investors have shown signs of excitement at the coming reform of the health care system because it meant that millions of new customers would flow into the health care system, injecting billions of dollars a year; and with coverage potentially extended to so many of the country's uninsured, hospitals would be required to do fewer procedures for free. As of now, according to Bloomberg Industries, hospitals receive no compensation for between 25 percent and 30 percent of all procedures they perform. The prospect of higher compensation is one reason why the stocks of HCA Holdings (NYSE:HCA), Tenet Healthcare (NYSE:THC), and Community Health Systems (NYSE:CYH) have soared more than 180 percent in the past two years. Some estimates show that as many as 27 million could end up being insured and, as a result, use hospital services more often. After falling for several years thanks to the economic recession, United States health care spending is expected to jump 6.1 percent next year due to the implementation of the individual exchanges, according to calculations made by actuaries at the Centers for Medicare & Medicaid Services.
"Improving economic conditions, combined with the coverage expansions in the Affordable Care Act and the aging of the population, drive faster projected growth in health spending in 2014 and beyond," stated the report in its opening paragraph.
Despite the fact that analysts had "less-than-encouraging outlooks for the health care sector in a post-Obamacare world," according to the trade publication ETF Trends, exchange-traded funds are in good position to profit from Obamacare, especially the $55 million SPDR S&P Health Care Services (NYSEARCA:XHS) exchange-traded fund. XHS, a narrowly focused, equally-weighted fund is comprised of insurers, hospitals, clinics, rehab centers, and nursing homes. Because it weighs all stocks at 2 percent, unlike its larger, market capitalization-weighted ETF rivals, XHS is much more exposed to hospitals, the big winners of the Affordable Care Act. Comparatively, funds like the $7.5 billion Health Care Select Sector SPDR ETF (NYSEARCA:XLV) have little or no exposures to hospitals because they weighs stocks by market capitalization, and publicly traded hospitals typically are small- and mid-cap companies. As a further help to XHS, 18 percent of its assets are in hospital stocks, the most of any ETF.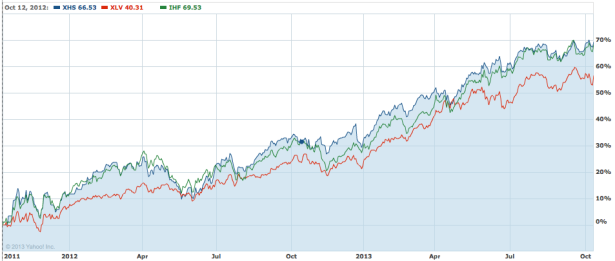 However, XHS is not the only narrowly focused ETF. The iShares U.S. Healthcare Providers ETF (NYSEARCA:IHF) has 14 percent of its assets in hospital stocks, but it is a market cap-weighted fund, and a highly concentrated one at that; its top ten holdings account for 62 percent of its portfolio. XHS has advanced 7 percent higher than IHF over the past two years, and its 3.1 percent yield is significantly better than IHF's 0.66 percent. It is also cheaper, with an expense ratio of 0.35 percent compared to IHF's 0.46 percent. The average expense ratio for a health-care ETF is 0.45 percent.
Health insurers, which make up 20 percent of the assets in XHS's portfolio, could be a problem or they could be a help. In a research note posted on Barron's, Credit Suisse analysts noted that Aetna (NYSE:AET) and Humana (NYSE:HUM), followed by WellPoint (NYSE:WLP), are the best-positioned of the publicly traded managed-care organization to sell the greatest number of policies, based on analysis of "each of the 36 federally run exchanges plus six of the state-run exchanges to determine which plans offer the lowest cost Bronze and Silver options within each region." The research indicated that WellPoint, Aetna, and Humana would offer the lowest-cost policies across the United States. "While we would again acknowledge that price isn't the only determinant, we do think it will be important, and believe that those plans at the lower price point will see the greatest exchange enrollment," wrote the analysts. The concern is that an increasingly strict regulatory environment and more struck reimbursement policies could be potential risks for health insurers.
A sign that health-care ETFs would do well post-Obamacare came the day the Supreme Court upheld the constitutionality of the Affordable Care Act in June of 2012. That day, XHS was the best performer of its rivals, advancing 2.5 percent larger due to gains made by hospital stocks. IHF was also up 1.5 percent, while every other health-care ETF was down between 0.24 percent and 2.44 percent.
Yet, there are are potential risks to consider. The impact of sequestration on health care spending is still unknown and there "are still a few question marks surrounding the sustainability of certain Medicare-related revenue streams, particularly Medicare reimbursement of dual eligibles," according to Morningstar health care analyst Alex Morozov.
Follow Meghan on Twitter @MFoley_WSCS
Don't Miss: IRS to Congress: Obamacare Glitches Not Our Fault.