Here's How McDonald's Is Convincing Diners to Open Their Wallets Wider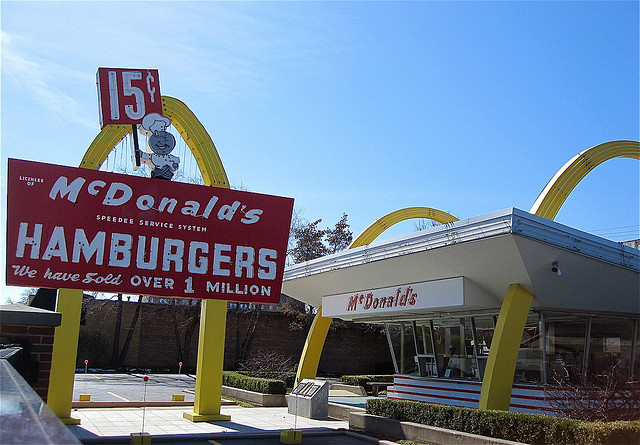 McDonald's (NYSE:MCD) is almost famous for its ability to maintain financial success in both good economic times and bad. But that is not to say the burger maker has not faced its share of operational challenges. Slow growth in same-store sales held back earnings at the end of last year as global economic pressures and intensifying competition hurt the fast-food chain's business.
However, a combination of innovation and aggressive marketing tactics has helped McDonald's get its sales back on track. The company announced Thursday that sales at stores open at least 13 months rose 0.7 percent in the past month, with new wraps and breakfast items attracting more diners. Analysts expected a 0.4 percent increase.
Even better, same-store sales rose 1.6 percent in the United States, well above the 0.3 percent gain analysts had predicted. In general, analysts had expected results to be relatively flat because many restaurant chains have given downbeat commentary about their July business.
"Their breakfast business has been strong," and the egg-white sandwich likely helped boost July sales, Telsey Advisory analyst Peter Saleh told Bloomberg in an interview. "As the economy improves and you get job growth, more and more people are now driving to work and so they tend to go through the drive-through."
McDonald's currently has 140 items on its menus worldwide and 160 new offerings in the pipeline, according to the company. To tackle the decline in sales the company experienced late last year and earlier this year, management introduced several new products to the menu, including chicken McWraps and the Egg White Delight sandwich. These products fared well with consumers and addressed growing concerns that McDonald's was planning on discontinuing some of its healthier menu items.
The company has also focused on more direct marketing tactics, stressing its value to consumers. That emphasis is important because the fast food industry has taken a hit in recent months, and consumers have been eating out less frequently because of economic stressors like the smaller incomes the higher payroll tax rate.
Therefore, to attract customers, McDonald's has shifted its focus toward offering more nutritional and low-priced items to consumers who are becoming increasingly conscious about their health and budgets. As part of its efforts, the chain has started reinvigorating its Dollar Menu.
"While the informal eating out market remains challenging and economic uncertainty is pressuring consumer spending, we're continuing to differentiate the McDonald's experience by uniting consumer insights, innovation and execution," CEO Don Thompson said in the company's second-quarter earnings report, released on July 22. In the April through June quarter, comparable sales rose 1 percent and operating income remained relatively flat.
As concerns for the economic recovery and the American consumer grew earlier in the year, investors worried about McDonald's. Shares have advanced 11 percent so far in 2013, a smaller percentage than the 18 percent gained by the Standard & Poor's 500 Restaurants Index. Shares were trading relatively flat Thursday morning, around $98.30.
The fact that the United States economy grew more the projected in the second quarter indicated that the the country could be overcoming January's tax hike and March's cut in federal spending. Alongside that improvement, consumer spending increased more than analysts expected, although the gain of 1.8 percent was far smaller than the 2.3 percent gain made in the first quarter. Yet the increase in consumer spending may be helping McDonald's sell more burgers.
McDonald's is "going to face some tough economies around the world," Thompson said during the July 22 earnings conference call. "Based on our recent sales trends, our results for the rest of the year are expected to remain challenged."
Follow Meghan on Twitter @MFoley_WSCS
Don't Miss: Are Restaurants Still Recovering from the Great Recession?