Here's How Obamacare Is Changing the Health Care Landscape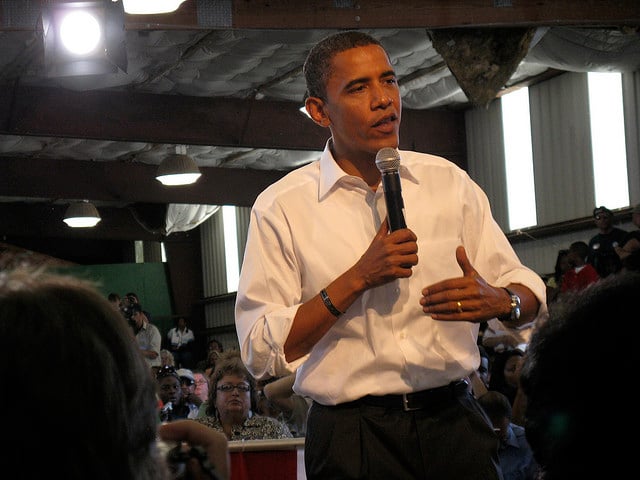 Four years ago, while campaigning for the Affordable Care Act, President Obama said: "If you like your health care plan, you can keep your health care plan. Period. No one will take it away." But it seems increasingly apparent that the president's pledge cannot be upheld. Even though health care reform doled out few new requirements for big employers, businesses are changing how coverage is provided.
In fact, thanks to rising health care costs and changes brought on by Obamacare, the entire industry is slowly undergoing a transformation. The recession, which forced companies to keep labor costs as low as possible, accelerated that trend. Helen Darling, whose nonprofit organization National Business Group on Health represents more than 300 large firms, told The Wall Street Journal that employers began "to let go of the idea that they could provide benefits with no constraints" during that period. "They began shifting in their thinking to say, 'We're not necessarily going to guarantee that we'll provide 80% of the cost of benefits,'" she said.
Walgreen Co. (NYSE:WAG) is the latest company preparing to make significant changes to its company-backed health program. On Wednesday, the drugstore chain is expected to announce a plan that will provide eligible employees with funds to subsidize insurance purchases beginning in 2014. Those eligible — roughly 160,000 Walgreen employees — will be required to shop for coverage on a private health insurance marketplace rather than receive coverage directly through the company. Walgreen cited rising health care costs and compliance-related expenses associated with Obamacare as the impetus for the switch.
Similarly, International Business Machines (NYSE:IBM) and Time Warner (NYSE:TWX) announced over the past few weeks that thousands of retirees will be moved from company-administered plans to private exchanges. Sears (NASDAQ:SHLD) and Darden Restaurants (NYSE:DRI) said last year that a combined 100,000 workers or more will be transferred to private exchanges. Trader Joe's said earlier this month that, rather than provide coverage, the company would give part-time workers $500 to buy insurance elsewhere. In August, United Parcel Service (NYSE:UPS) announced it would terminate benefits for 15,000 spouses of white-collar employees who would receive coverage through their own employers.
"With 56 percent of employers considering a private exchange to provide benefits to their active employees or retirees, the transformation of the U.S. health care landscape is well underway," David Rahill, president of health and benefits at the employee benefit consultancy Mercer, told Forbes in April. Private exchanges operate much like those that have been designed to offer affordable coverage as part of Obamacare's individual mandate in that they allow consumers to shop for coverage in a single marketplace and create competition among participating insurers.
While the health care landscape is certainly changing, the transformation is relatively slow. The consulting firm Towers Watson released a survey last month that showed 98 percent of employers will keep "active medical plans for 2014 and 2015." But that same study also found that 92 percent of employers said they would likely change their health insurance options by 2018, the year the Affordable Care Act's so-called "Cadillac" tax on high-cost insurance policies goes into effect, while 47 percent said they "anticipated significant or transformative change."
In comparison, a report from PricewaterhouseCoopers highlighted by the Washington Post noted that in Massachusetts — where the model for Obamacare was enacted in 2006 — employer-sponsored coverage increased, rather than decreased. "The number of people covered by insurance through the workplace increased by about 1 percentage point, running counter to the rest of the nation, which saw employer-based insurance decline by 5.7 percentage points," the report said.
However, it seems likely that reality will not hold true on the national level. As the examples of Walgreen, UPS, IMB, and Darden show, many companies are transferring part-time workers and retirees to exchanges after Obamacare is implemented. A survey by the National Business Group found that to be true, as well.
The data show that as companies set their health care contributions at a fixed amount to limit spending, workers have to shoulder a greater portion of the cost increase. The Kaiser Family Foundation reported that more than one-third of workers at companies with 200 or more employees had annual deductibles of $1,000 or more last year, an increase from 10 percent in 2006.
A similar health care shift was made at the beginning of the 1980s, when employers began moving workers from pension plans to 401k plans, a transition that began a pattern of businesses handing their workers more control over their benefits. As Paul Fronstin, an economist for the Employee Benefit Research Institute in Washington, described the situation to The Wall Street Journal, the health care system is "moving away from a paternalistic employer deciding what's best for employees. Workers don't need their employer anymore for health coverage. They just need the employers' money."
Don't Miss: Will a Recent Settlement Allow JPMorgan Chase to Grow?
Follow Meghan on Twitter @MFoley_WSCS