Here's How Spending Cuts Are Hurting the Economy
Earnings may be under the microscope today, but the economic headwinds are still howling. On Tuesday morning, Markit reported that the flash reading of the U.S. Purchasing Managers' Index fell to 52.0 in April, its lowest reading in six months.
"The biggest monthly fall in the PMI since June 2010 raises concerns that the U.S. manufacturing expansion is losing momentum rapidly as businesses and households worry about the impact of tax hikes and government spending cuts," commented Chris Williamson, chief economist at Markit.
At 52.0, the flash reading indicates that the U.S. manufacturing business conditions are still improving, but at a slower rate than in March. Only two components of the index, backlogs of work and stocks of purchases, reversed direction and fell from growth into contraction. New export orders and stocks of finished goods expanded at a faster rate.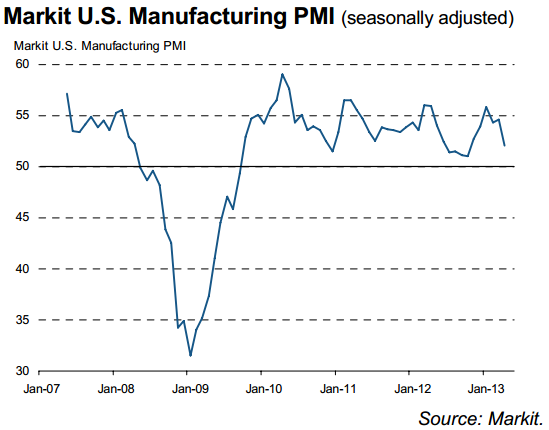 "The PMI suggests that output growth has slowed from an annual pace approaching 8% earlier in the year to only 2% at the start of the second quarter," continued Williamson. "While this week's first quarter GDP numbers may therefore bring some brighter news on the economy, the picture looks to have already begun to darken again, with GDP growth set to weaken in the second quarter."
The index for input prices declined from 55.4 in March to 52.3 in April, while the output prices index fell from 53.0 to 51.8. This suggests that inflationary pressure in the production pipeline is fairly weak. In turn, this suggests consumer price inflation will remain low, and below the radar of the Federal Reserve.
Broadly speaking, the April flash manufacturing PMI suggests that the U.S. economic recovery is not as robust as some optimists believe. If demand does not pick up, Williamson suspects that firms could look to reduce headcount, complicating an already tepid labor-market recovery. The employment index fell from 54.6 to 52.7 in the latest reading, indicating expansion but at a slower rate.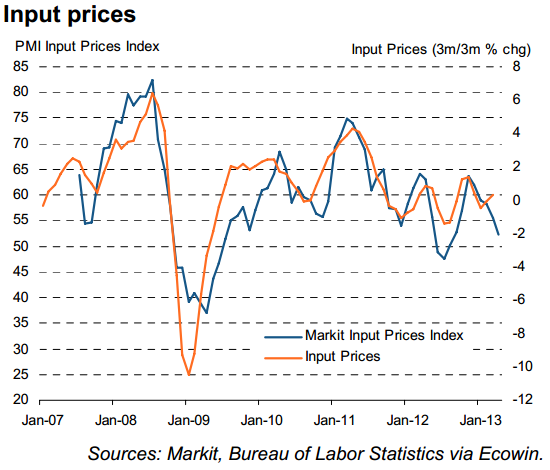 Don't Miss: Has Economic Austerity Failed Europe?