Here's How the Fed Affected Consumer Prices in 2012
The Consumer Price Index for All Urban Consumers was unchanged in December, according to the most recent report from the Bureau of Labor Statistics. Before seasonal adjustment, the all-items index is up 1.7 percent for the past 12 months.
The CPI-U is a convenient proxy for inflation, and given the most-recent reading, market participants can assume that the Federal Reserve's easy-money policy hasn't yet overheated the economy. Last month, the Fed indicated that it would continue buying assets in order to keep interest rates low as long as the inflation rate stayed below 2.5 percent.
Start 2013 better than ever by saving time and making money with your Limited Time Offer for our highly-acclaimed Stock Picker Newsletter. Click here for our fresh Feature Stock Pick now!
The ultimate goal of the Fed's monetary policy is to keep credit accessible (cheap) and to lower the unemployment rate, currently standing at an official U-3 reading of 7.8 percent. Some economists, including regional Fed presidents, believe that this rate could come down to about 7 percent by the end of 2013. If the pace of job creation keeps steady at about 150,000 per month, then the Fed's target rate should be seen sometime in the middle of 2014.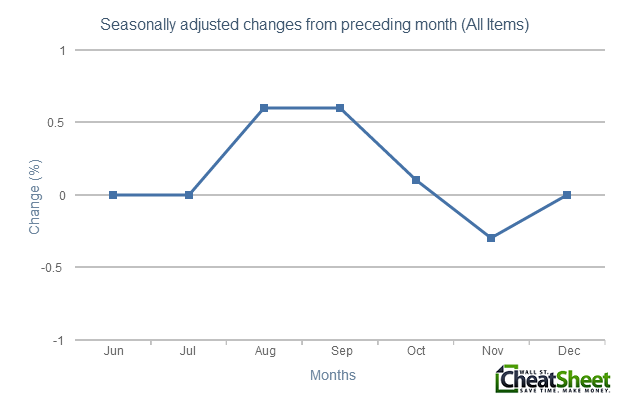 What's the December CPI breakdown?
Energy: December's flat rate was highlighted by another drop in the gasoline index, the only major energy index to decline for the month. The gasoline index fell 2.3 percent from November to December, following a 7.4 percent drop from October to November. Both natural gas and electricity increased fractionally month to month, but the drop in gasoline pulled the total energy index down 1.2 percent for the period. Energy is up 0.5 percent for the 12-month period ended December.
Food: The food index climbed 0.2 percent again in December, consistent with its month-on-month growth in November. The food index has climbed steadily at 0.1 or 0.2 percent per month, leading to a 1.8 percent unadjusted annual gain.
All items less food and energy: This benchmark index was up just 0.1 percent in December, consistent with its month-to-month growth for most of the year. Medical care services was the component that grew the most on an annual basis at 3.7 percent, followed by transportation services at 2.6 percent. Services less energy grew 2.5 percent overall.
The only component to decline was used cars and trucks, which fell 2.0 percent. Overall, the all items less food and energy index climbed 1.9 percent on an annual basis…
2012 in review
The index's 1.7 percent gain in 2012 follows 3.0 percent growth in 2011. For the past ten years, the average annual increase has been 2.4 percent.
The energy index, which grew 0.5 percent in 2012, compares to a 6.6 percent increase in 2011. Again, this is largely due to the gasoline index, which climbed 13.8 percent in 2010 and 9.9 percent in 2011, compared to just 1.7 percent annual growth in 2012.
Food, which climbed 1.8 percent in 2012, compares to a 4.7 percent increase in 2011. The important "all items less food and energy" index also decelerated from 2011 to 2012 — from a 2.2 percent increase to a 1.9 percent increase — but matches the ten-year average of 1.9 percent growth.
Don't Miss: World Bank Cuts Growth Across the Board.