Here's How Wal-Mart Is Securing Stronger Sales Growth Next Year
Wal-Mart Stores (NYSE:WMT) met with investors and analysts in Arkansas on Tuesday, and the company had several interesting forecasts and developments to share.
According to Reuters, the world's largest retailer now expects its overall sales to rise 1.9 percent to 3 percent this fiscal year, totaling $475 billion to $480 billion, and that reflects a jump from last year's $466.11 billion. In addition, for fiscal 2015, Wal-Mart is targeting 3 percent to 5 percent growth, and the company believes its shifting sales sales strategies will help it do just that.
The retail giant said to analysts and investors Tuesday that it is now testing a new technique of using its supercenter stores as "cross docks" that supply nearby smaller stores, Reuters reports. The operation will help Wal-Mart cut transportation and storage costs and also ensure that it always has goods kept in stock.
The company's U.S. chief executive, Bill Simon, maintained that his strategy to employ the "little mini warehouses" will roll out first in three markets in March and then appear in others if successful. The game plan won the support of Stewart Samuel, program director at IGD, who explained to Reuters, "I think it's a fundamental shift in their real estate strategy to look at things market-by-market rather than store-by-store and it is a sophisticated development."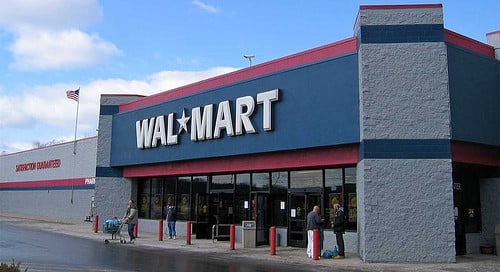 Wal-Mart hopes that those types of efforts, along with more investment in e-commerce, will help the Bentonville, Arkansas-based company revive sales success, as it suffered a surprising 0.3 percent fall in same-store sales at Wal-Mart U.S. in the 13-week period that ended in late July, and it is now eager to stem those losses.
Fortunately, the retailer believes that the declining unemployment rate, its lowered prices, and a better merchandising plan will help give more consumers an impetus to visit Wal-Mart stores in the upcoming months, and the company is now even erecting confidence that it can grow sales faster next year, according to Chief Financial Officer Charles Holley.
To do so, Reuters says that Wal-Mart is already gearing up for the lucrative holiday shopping season by dropping prices prematurely, similar to a Sam's Club strategy that will offer consumers a discount booklet starting on October 30, working to boost sales early in the fourth quarter.
Wal-Mart's variety of goods is already significantly discounted this month, and those price drops will continue into November and December as the retailer hopes to experience a successful holiday campaign despite flattened consumer sentiment on account of the political stalemate in Washington.
In addition to the price discounts and real estate strategy swap, Wal-Mart also informed investors Tuesday that it will be closing about 25 stores in China, even though it has furiously opened locations in the country ever since 2007.
According to The Wall Street Journal, the retailer currently has 398 China-based stores, and is set to open about 30 more this year, but despite its best efforts, Wal-Mart still has suffered flattened demand in many of the country's old locations, and Scott Price, president and chief executive of Wal-Mart's Asia division, explained Tuesday that closing them would "enable the team to focus on the healthy core."
Wal-Mart has quickly added to that core as part of its three-year, 100-outlet expansion effort which continues until 2015,  but it has still lost market share in China over the past few years, and has watched its share of hypermarket sales slide to 10.9 percent in 2012 from 11.6 percent in 2009.
These losses are especially vital for Wal-Mart to stem because China is a key component of its business and the country accounts for much of its international success, but that is why the retailer has now recognized the need to improve profitability and create a more consistent brand image, even if that means closing the existing locations that don't align with where it is today.
Wal-Mart will focus on these changes as it continues reworking its international strategy as a whole, and according to The Journal, the retailer also explained to investors Tuesday that it will add 14 million square feet of new store space in overseas markets, down from its earlier forecast, as part of that new approach.
The expansion plans are less aggressive than Wal-Mart's original international goals, but the company recently ended its joint venture with Bharti Enterprises, deciding to hold off on its India plans, and the chief financial officer, Charley Holley, maintained Tuesday, "Wal-Mart international continues to be a growth engine for us, even with moderation in square footage.
Don't Miss: Is Declining Soda Drinking in North America Hurting Pepsi?