Here's More Good News for the Housing Market
The housing recovery is heavily dependent on low interest rates induced by the Federal Reserve, but mortgage applications continue to slowly grind higher.
According to the Mortgage Bankers Association's latest report for the week ending April 12, loan application volume gained 4.8 percent on a seasonally adjusted basis from one week earlier. This comes after a 4.5 percent increase. These figures include both refinancing and home purchase demand, and covers over 75 percent of all domestic retail residential mortgage applications.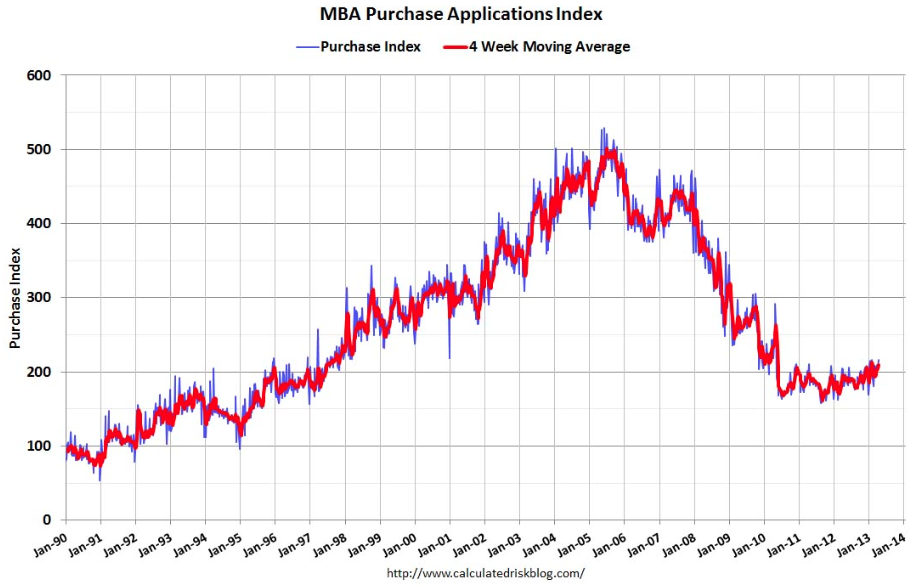 The industry group's Refinance Index increased 5.0 percent from the previous week to reach its highest level since mid-January of 2013. The Purchase Index gained 4.0 percent and is at its highest level in almost three years. On an unadjusted basis, the Purchase Index still jumped 5.0 percent, which is 20.0 percent higher than the same week one year ago.
Overall, the refinance share of mortgage activity remained unchanged at 75 percent of total applications. The refinance share declined for ten straight weeks earlier this year, and is slightly above its lowest level since May 2012.
Interest rates edge lower…
The average interest rate for a 30-year fixed-rate mortgage came in at 3.67 percent, down slightly from 3.68 percent in the prior week. In comparison, the week ending March 15 posted the highest contract rate since August 2012 at 3.82 percent. The most recent average rate for a 15-year fixed-rate mortgage decreased from 2.92 percent to 2.91 percent.
The MBA report is the latest sign that the housing recovery is still in progress. Earlier in the week, the Commerce Department reported that home builders broke ground on houses at a seasonally adjusted annual rate of 1.04 million units last month, representing a 7.0 percent increase above the revised February estimate of 968,000 units. It is the first time the pace of housing starts broke 1 million units since 2008.
After an impressive rally over the past year, investors appear to be booking some profits in home-related stocks. In morning trading, shares of PulteGroup (NYSE:PHM) and Toll Brothers (NYSE:TOL) both fell more than 2.0 percent. Home-improvement names such as The Home Depot (NYSE:HD) and Lowe's (NYSE:L) also edged lower.
Don't Miss: Are Your Income Taxes Fair?